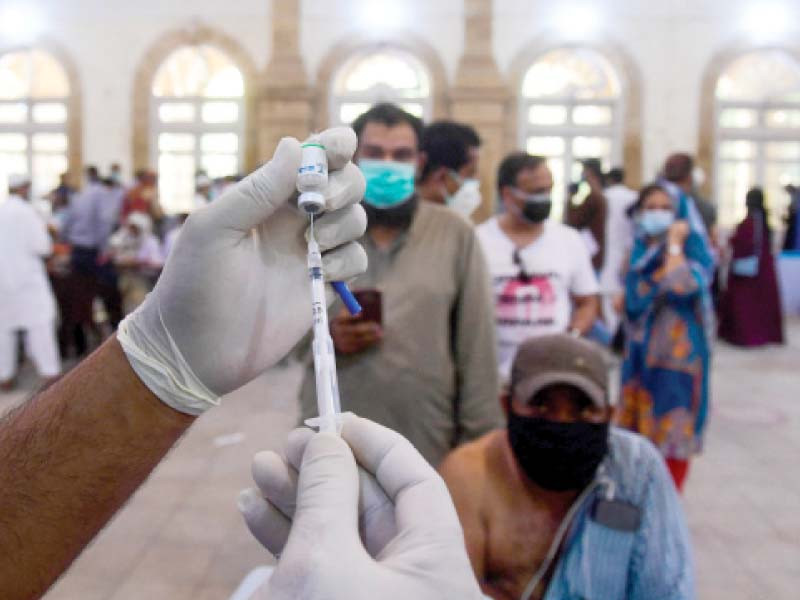 ---
Covid conundrum in K-P: Irregularities haunt vaccination programme
Many people received the coronavirus vaccine out of turn
---
PESHAWAR:
With the Khyber Pakhtunkhwa (K-P) government racing to make more adults eligible for the Covid19 vaccine, public interest in the jab that is said to reduce the risk of being infected, appears to be increasing. But this growing interest comes with its own set of challenges.
One irregularity that haunts the program is the out of turn vaccination of people who are currently ineligible to receive the shot. "They are pulling every possible string to receive the shot before their turn," said one senior official of the provincial health department, who was speaking on the condition of anonymity.
Health experts believe that if people continue to bypass the system to receive the vaccine out of turn, it will eventually slow down the process and deprive the most vulnerable in the province. According to the details gathered by the Express Tribune, several people in Mardan, who were below the eligible age group, were seen receiving the jab. However, the district health officer bluntly denied any anomalies.
At least 39 passengers from UAE test positive for Covid at Peshawar airport
"Things are going in the right direction and without any issue," he claimed. While the district health officer was trying to paint a flawless image of the process, several individuals allegedly even managed to receive the vaccine using the CNIC of their deceased relatives. "Such activities cannot take place without the blessings of the local health staff. It has been happening in some areas," confirmed another senior health official, who was also speaking on the condition of anonymity. Such actions, he said, should not only be discouraged but also penalized.
In other areas, recipients of the vaccine got away without even presenting their CNIC. Ajmal, a 31-year-old resident of Peshawar confessed he has already received a shot in the arm. "I got it before my turn. My age group will be eligible in the next few weeks." Meanwhile, sources familiar with the development within the district administration confirmed that several health facilities were permitting unauthorized vaccination of individuals below the eligible age group.
In Mardan alone, several Basic Health Units were allegedly serving crowds that were neither eligible nor registered for the vaccination. Officials said that some employees of the Tehsil Headquarter Hospital (THQ) Takht Bhai received vaccines for senior citizens, but they were administered to those who were below the age of 50 or even 30. Shortly after the issue received media attention, the district health officer was transferred.
In a vague statement, his successor, Dr. Aurangzeb, acknowledged that some irregularities were confirmed, but he hasn't witnessed any on his watch. "They say irregularities were reported at some Basic Health Units, but we don't administer Covid-19 vaccine at BHUs or Rural Health Centers," he claimed. While thousands have been vaccinated against the super spreader in K-P, millions across the province are still waiting for their turn.