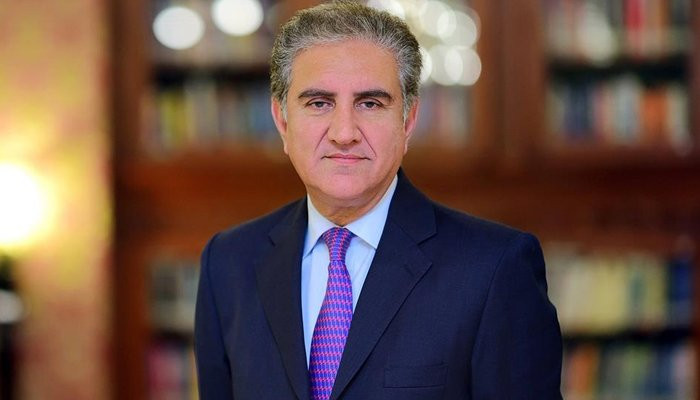 ---
UNITED NATIONS:
Foreign Minister Shah Mahmood Qureshi urged UN Secretary General António Guterres to play his role in resolving the Indian Illegally Occupied Jammu and Kashmir (IIOJK) in line with the UN Charter and the UNSC resolutions.
Talking to the secretary general in New York, Qureshi highlighted the serious human rights violations in the occupied territory, including illegal incarceration of political leaders and extra-judicial killings, Radio Pakistan reported.
"Pakistan desires normal relations with India, however, the onus is on India to create an atmosphere to enable meaningful engagement," the minister told Guterres .
Qureshi stated that his visit to New York to attend the UNGA session on Palestine was an expression of Pakistan's support for the legitimate cause of the Palestinian people for their right to self-determination.
He also highlighted Islamabad's efforts to facilitate the Afghan peace process, expressing hope that the stakeholders would reach an inclusive and politically-negotiated settlement to bring lasting peace and security in Afghanistan.
Also read Pak calls for 'coalition of willing' to protect Palestinians
The minister expressed deep concern at the rising intolerance, discrimination, violence against Muslims, as well Islamophobia, and urged the UN's role to address the challenge.
António Guterres expressed that the ceasefire in Gaza could help revive a negotiated settlement of the Palestinian issue.
On Thursday, the foreign minister called for collective efforts to end the human tragedy in Palestine and avert threats to regional peace.
He also asked United Nations to deploy a 'International Protection Force' in Occupied Palestine, saying if the world body can't do it, a "coalition of willing" can be formed for the purpose.
FM Qureshi left for New York from Ankara on May 19, continuing his diplomatic peace mission against the ongoing Israeli atrocities targeting the people of Gaza.
COMMENTS
Comments are moderated and generally will be posted if they are on-topic and not abusive.
For more information, please see our Comments FAQ