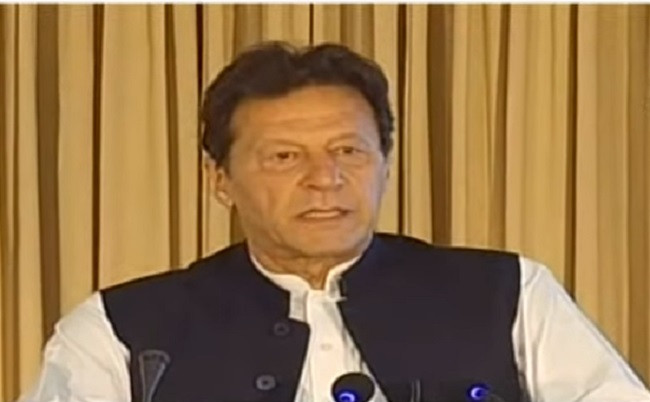 ---
ISLAMABAD:
Prime Minister Imran Khan said on Friday the National Accountability Bureau had been working for the past 23 years but the country could not overcome corruption because no-one could lay hands on the big fish.
Prime Minister Imran formally inaugurated the Karachi Nuclear Power Plant Unit-2 (K-2) set up in collaboration with China at a virtual ceremony organised in the federal capital, Karachi and the Chinese capital Beijing.
The K-2 will generate 1,100 megawatt clean electricity besides the plant will also help provide technical training to young people. The inauguration ceremony also marked the 70th anniversary of the establishment of the diplomatic relations between Pakistan and China.
Imran said that no country could progress without eradicating corruption, and stressed that development was not possible unless everybody came under the rule of law. "NAB has been working against corruption for 23 years but we can't control corruption," he said.
He added that NAB failed in controlling the corruption because NAB failed to NAB big fish. "We only catch the little ones," he said, adding that without bringing the powerful under the law, the country could not progress.
Read: PM's aide resigns as NAB decides to probe RRR project
He referred to China's successful drive against corruption. "China has severely punished many people for corruption," he said, adding: "Corruption in the country is reduced only when the action is taken at the top, as seen in China," he added.
Imran said that China overcame other issues also, including reducing poverty in a very short period of time. "Getting people out of poverty is our government's priority," the prime minister said. "We can learn a lot from them [in this regard].|
The prime minister emphasised that clean energy was very important for the country. Pakistan was among the most vulnerable countries because of climate change, he said, adding that reversal of its fallout was vital to save coming generations.
"Eighty per cent of Pakistan's river water comes from glaciers, it is the blessing in disguise against global warming," he said. "K-2 nuclear plant will contribute to production of clean and cost-effective energy for the benefit of people and the environment," he said.
The prime minister expressed satisfaction that with strenuous efforts of the Chinese and Pakistani engineers, the state-of-the-art K-2 nuclear facility would produce 1,100 megawatt electricity for the national grid.
Future of Asia
Separately, addressing the 26th International Conference on the Future of Asia in Japan via video link on Friday, Prime Minister Imran warned that Asia "must not become a theatre of tensions induced from within or without".
"The differences and disputes in Asia require Asian solutions on the basis of Asian values and interests," he said. "The Asia-Pacific [region], including the Indian Ocean, should become a zone of peace, an area of expanding cooperation and prosperity..."
Though Imran did not explicitly mention it, he was referring to the US-led Quadrilateral Security Dialogue group that includes Japan, Australia and India. China views the alliance, also known as the Quad, as a threat to itself and the region.
Stressing the need for greater global cooperation, Imran said China's Belt and Road Initiative (BRI) – of which the China-Pakistan Economic Corridor [CPEC] is a flagship project – provides "an important pathway" for "integration across the Asia-Pacific region and beyond."
He added that Islamabad has invited all friendly countries to invest and benefit from CPEC, a network of roads, railways, and pipelines that aims to connect China's strategically important north-western Xinjiang region to the port of Gwadar in Balochistan.
Read: NAB recovers Rs24b in fake accounts scam
He also reiterated Pakistan's desire for peace and good relations with all regional countries, including India. "Pakistan wants peaceful and cooperative relations with all its neighbours, including India. But India must stop the human rights violations in Occupied Jammu and Kashmir and revisit the unilateral measures it took on August 5, 2019," he said.
Imran also stressed the need for collective efforts in the fight against the coronavirus pandemic. "We must act collectively to ensure that Covid-19 vaccines are made available to everyone, everywhere, and as soon as possible," he said.
"No one will be safe unfortunately until everyone is safe. The vaccine's supply and distribution must be immediately expanded, patent rights waived, production ramped up, including in the developing world and the COVAX facility fully extended and funded."
Palestine crisis
Imran said that Israel's continued aggression against Palestinians "remained a matter of deep concern for everyone". He urged the international community to take urgent actions to stop Israeli attacks against Palestinians, prevent the desecration of holy places, especially the Al-Aqsa Mosque.
With input from Agencies