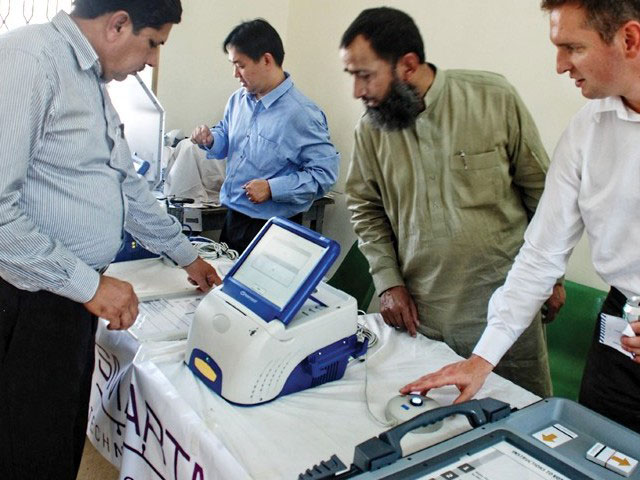 ---
ISLAMABAD:
The Election Commission of Pakistan (ECP) has constituted a committee for the procurement of electronic voting machines (EVMs) and to enable the overseas Pakistanis to exercise their right to vote while staying in their country of residence.
The committee under the supervision of ECP secretary will forward its recommendations in the next meeting.
The election supervisor, which met on Thursday under the chairmanship of chief election commissioner (CEC), reviewed the presidential ordinance on EVMs and overseas Pakistanis right to vote.
Earlier this month, President Arif had promulgated the Elections (Second Amendment) Ordinance 2021 under Article 89 of the Constitution only two days after National Assembly Speaker Asad Qaiser constituted a panel of the cabinet members to engage the opposition on the issue of electoral reforms.
PPP termed the parliamentary committee on electoral reforms toothless and said that it had no mandate and power.
However, the PTI government maintained that it wanted reforms in the electoral system with the introduction of latest technology to bring transparency and credibility to the election process.
On Thursday, the ECP sought an audit report on the pilot projects for the overseas Pakistanis right to vote and issued directives to the authorities concerned to write a letter to the information technology ministry for the purpose.
It asked the Ministry of Science and Technology to present a demonstration of the EVM after May 31.
The federal government was also asked to forward a report on the internet voting and EVM.
The CEC observed that the ECP hailed the use of technology and emphasized that security standards must be considered in this process.
Meanwhile, President Arif Alvi underscored the need for early development of EVMs to increase the overall efficiency of the electoral process and ensure transparency in the elections.
He said that modern technologies could help in making the voting process more convenient for the citizens as well as building public trust in the electoral process.
Alvi made these remarks while chairing a meeting on EVMs at the Aiwan-e-Sadr. The meeting reviewed the progress with regard to manufacturing of indigenous EVMs with latest security features and specifications.
The Ministry of Science and Technology updated the meeting about the development of prototype EVMs. Alvi asked the concerned organizations to set timelines and finalize specifications at the earliest so that the machines could be used in the upcoming general elections in 2023.
With input from APP