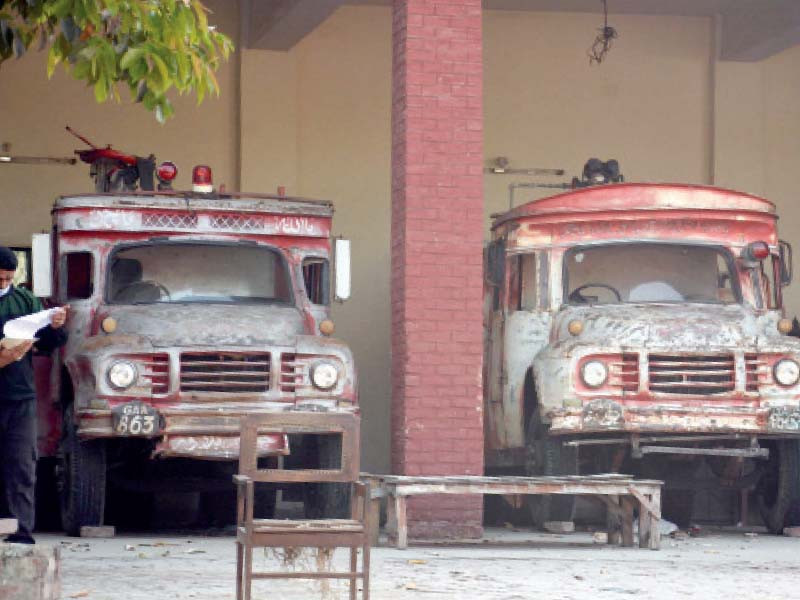 ---
GUJRANWALA:
The fire brigade department in Gujranwala is awaiting repair of its several dysfunctional vehicles since its merger with the Rescue 1122 service.
The Punjab government ordered the merger of the fire brigade into Rescue 1122 about four years ago. There were 39 fire brigade employees, including four drivers in Gujranwala.
The district rescue officer at that time met the fire brigade employees and told them that they would now work with Rescue 1122. However, they were told that their fitness test would be necessary for the preparation of a report in this regard and the condition of the vehicles would also be checked.
The firefighters failed the fitness test as most of them aged between 35 and 40 years, while the drivers were over 50 years old and and because of that they were not allowed to join Rescue 1122.
Former DEO Rescue Omar Ghuman also reportedly stated in report at the time that three vehicles of the fire brigade were not operable, while two of the five were fine. The pipes of the water tanks were leaking. The vehicles were of old models. The fire brigade employees also did not want to be deployed with the rescue service. Instead, they asked to be called for help whenever a fire broke out.
They also reportedly contended that if they were to be deputed with the rescue service then their pay scale should be equal to the rescue firefighters, which is 11, and not the existing grade 5 of firemen. The rescue service authorities reportedly rejected the demand.
After this the fire brigade employees approached a court, seeking permission to work under the metropolitan corporation. They contended that since they used to get salary from the department, their service structure, training, techniques and working style did not match with Rescue 1122.
Senior firefighter Manzoor Ahmed said that at present the department had 39 employees out of whom four are drivers and many of them, including their director, were about to retire. Ahmed said, "We have approached the court but a date for hearing has not been set."
He said the employees were currently working under the metropolitan corporation in various offices including finance, regulation branch and other sections. The vehicles are parked and dysfunctional, he added.
He said the fire brigade employees in Lahore and Faisalabad worked as helpers with rescuers but in Gujranwala they were not being assigned firefighting duties.
He added, "We are working in the Commissioner's Office and metropolitan corporation. If we have to work with Rescue 1122, we should be deployed in water supply."
Published in The Express Tribune, May 20th, 2021.
COMMENTS
Comments are moderated and generally will be posted if they are on-topic and not abusive.
For more information, please see our Comments FAQ