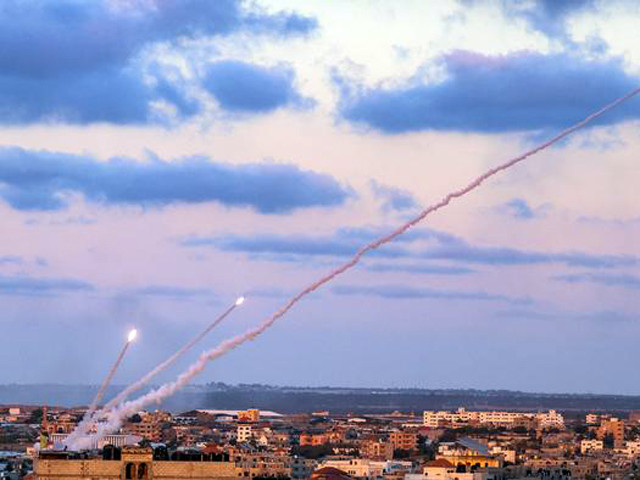 ---
JERUSALEM:
Three rockets were fired from southern Lebanon towards Israel on Thursday, a Lebanese military source said.
Israel's army said the rockets landed in the sea.
Lebanese military and security sources said the rockets were launched from near the Palestinian refugee camp of Rashidiyeh.
A source close to Israel's arch-enemy Hezbollah said the Lebanese group had no link to the incident.
The Israeli army confirmed the attack, saying it retaliated with artillery fire.
Read more: Casualties mount in Gaza as ceasefire remains elusive
"Four rockets were fired from Lebanon into Israeli territory" and Israel's air defences intercepted one while the rest "likely fell in open areas", it said in a statement.
"In response, IDF artillery are striking a number of targets in Lebanese territory," it said. "According to protocol no sirens were sounded".
There were no immediate reports of any casualties.
The rocket fire comes as Israel has deployed additional troops to the border of the Gaza Strip, following several days of deadly air strikes on the Palestinian enclave.
In 2014, during a previous Israeli military assault on Gaza, rockets were also fired from south Lebanon towards northern Israel.
Israel bombarded Gaza with airstrikes and Palestinian groups retaliated with rocket fire, with no firm sign on Wednesday of any imminent ceasefire despite international calls to end more than a week of fighting.
Also read: Erdogan applauds Pakistan's unflinching support for oppressed Palestinians
Israeli leaders said they were pressing on with an offensive against Hamas and other groups, but an Israeli military spokesperson acknowledged that with an estimated 12,000 missiles and mortars in the groups' Gaza arsenal, "they still have enough rockets to fire".
Two Thai workers were killed and seven people were wounded in a rocket strike on Tuesday on an Israeli farm just over the Gaza border, police said.
Rockets were also launched early on Wednesday, with sirens sounding in the coastal city of Ashdod, south of Tel Aviv, and in communities closer to the Gaza border. There were no reports of damage or injuries.
Gaza medical officials say 217 Palestinians have been killed, including 63 children, and more than 1,400 wounded since the fighting began on May 10. Israeli authorities claimed that 12 people have been killed in Israel, including two children.