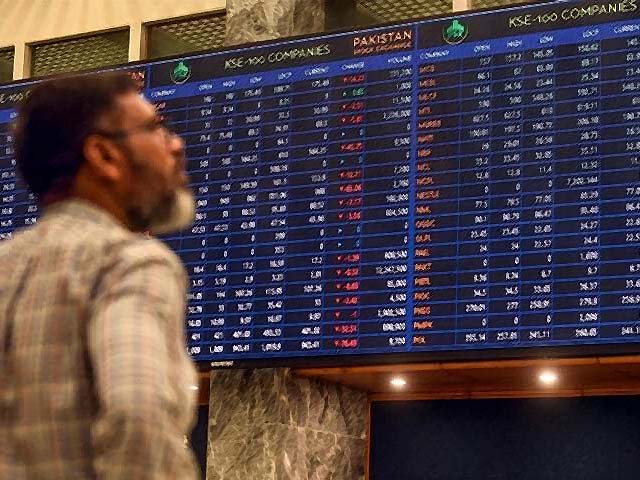 ---
KARACHI:
The Pakistan Stock Exchange on Tuesday endured a range bound session despite a host of positive triggers, but cherry-picking pushed the KSE-100 index up by 186 points.
A surge in workers' remittances to an all-time high of $2.8 billion in April 2021 failed to encourage market participants to take fresh positions.
Investors remained cautious in the wake of uncertainty over the Covid-19 situation and resultantly, stock trading remained muted.
The automobile sector attracted modest selling as investors overlooked the healthy car sales numbers for April 2021 released on Monday.
Oil sectors were in the limelight following a spike in international crude oil prices and both oil sectors ended the session entirely in the green.
Earlier, trading kicked off on a positive note, however, selling pressure emerged within the first hour and dragged the market down. From this point onwards, cherry-picking by investors helped lift the KSE-100 index upward and it closed with modest gains.
At close, the benchmark KSE-100 index recorded an increase of 185.51 points, or 0.41%, to settle at 45,981.82 points.
In its report, Arif Habib Limited stated that the market traded in a range that saw the KSE-100 index oscillate between -178 points and +238 points. It ended the session up by 185 points.
Earlier, the market registered a decline on the back of profit-booking in technology stocks, which caused selling pressure among banks, exploration and production firms and oil and gas marketing companies.
A rebound in buying activity brought interest back to PSO, which pushed the stock price up by a good margin from previous day's closing price.
Activity remained skewed towards Ghani Global Holdings, Unity Foods, TRG Pakistan and Telecard, which had enjoyed a robust rally in the past couple of months, the report said.
JS Global analyst Neelum Naz said that the KSE-100 index experienced a range bound activity as market participants booked profits above the 46,000 level.
The stock market traded between the high and low of 46,034 and 45,618 points respectively and managed to close at 45,982, up 185 points.
The technology sector stood out in Tuesday's trading, contributing 27% to the total traded volume of 537 million shares.
On the news front, Pakistan's foreign exchange reserves stood at $22.91 billion on May 7, 2021. Also with rising construction activities, steel bar makers increased prices by Rs5,000 to Rs142,500-143,500 per tonne.
Automobile sales in Pakistan increased by 54% in the first 10 months of FY21. However, these positive news reports could not spark much interest among market participants in the auto and steel sectors.
"Going forward, we expect to see high volatility as the market enters its resistance area between 46,000 and 46,400, and aggressive profit-taking can be seen, so sell on strength is advised," the analyst said.
Overall trading volumes rose to 536.8 million shares compared with Monday's tally of 437.4 million. The value of shares traded during the day was Rs23.1 billion.
Shares of 404 companies were traded. At the end of the day, 195 stocks closed higher, 190 declined and 19 remained unchanged.
WorldCall Telecom was the volume leader with 49.5 million shares, losing Rs0.02 to close at Rs1.67. It was followed by Telecard Limited with 49.1 million shares, gaining Rs0.84 to close at Rs17.54 and Ghani Global Holdings with 47.2 million shares, gaining Rs2.75 to close at Rs42.56.