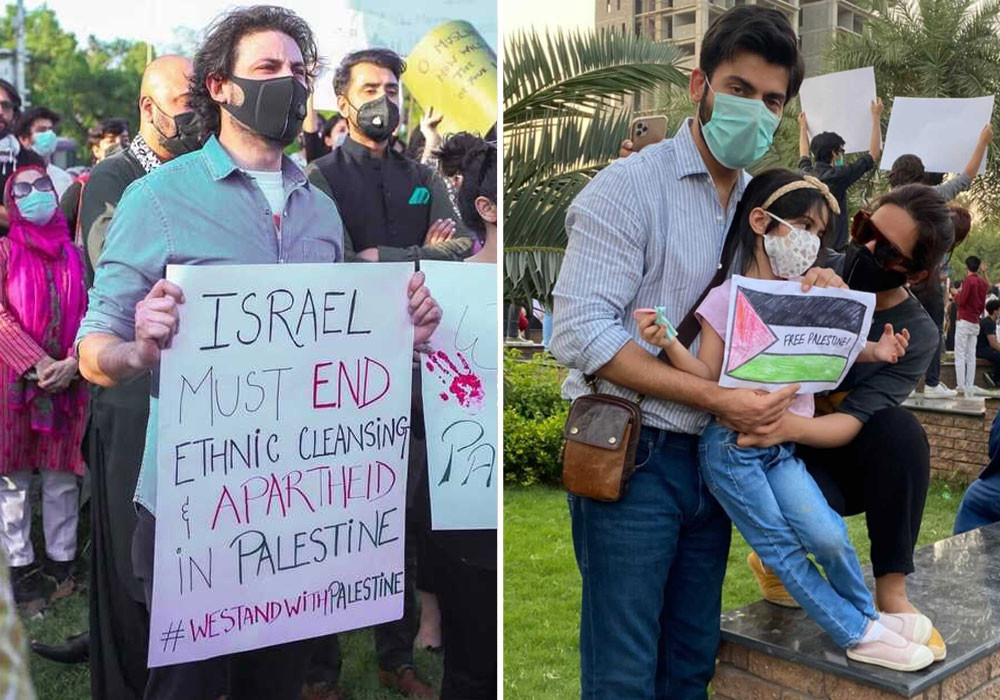 ---
Tens of thousands of Pakistanis held protests across the country on Sunday to denounce Israel's inhumane attacks in Gaza, which have killed at least 181 Palestinians, including women and children. Many local celebrities took to the streets, alongside other demonstrators, to show solidarity with Palestine amid Israel's continued aggression.
Stars including Fawad Khan, Sadaf Fawad Khan, Osman Khalid Butt, Hania Aamir, Ali Rehman Khan and social media sensation Dananeer Mobeen, were spotted holding placards and chanting slogans rooting for Palestine's freedom.
The artists later took to social media and shared pictures from the rallies.
"Wanted to share a thread by the IMEU (via Twitter) for those uninformed as to what's happening between Palestine and Israel," the Chupke Chupke star shared. He added, "This is why we marched today. To call for an end to this genocide."
Aamir posted, "Such an overwhelming turn out in Islamabad!"
The Parchi actor shared few posts from the protest.
The Legend of Maula Jatt producer Ammarah Hikmat, too, attended the march and posted a few pictures from the protest.
Fawad, alongside his wife Sadaf and daughter Alayna, could be seen holding posters as well. Rallies and demonstrations were held in the capital Islamabad, and cultural hub Lahore, while other cities including Karachi, Peshawar, Quetta, Faisalabad, Multan, Hyderabad are slated to hold protests on Wednesday and Thursday.
In Islamabad, thousands rallied at the city's famous D-Chowk roundabout, less than a mile away from the Parliament House, to express solidarity with Palestinians. Carrying Palestinian flags, banners and posters, some of them plastered pictures of slain Hamas leader Shaikh Ahmed Yasin, while others repeated anti-Israel slogans. Several cars were decorated with Palestinian flags. However, some angry protesters were spotted burning Israeli flags too.
Addressing the rallies, several local political and religious leaders regretted the mere "lip servicing" by Muslim leaders, mainly the Arab world and the Organisation of Islamic Countries against Israeli atrocities. This continuing inaction, they said, has encouraged the Zionist state to evict Palestinians from their lands.
Meanwhile, the government of southwestern Balochistan province announced to observe the Day of Solidarity with Palestinians on Monday, in an attempt to honour Palestinian martyrs and condemn Israel's violence.
The tensions that began in Ramazan in East Jerusalem spread to Gaza after Palestinian resistance groups there, vowed to retaliate against Israeli assaults on the Al-Aqsa Mosque and Sheikh Jarrah neighbourhood.
Have something to add to the story? Share it in the comments below.