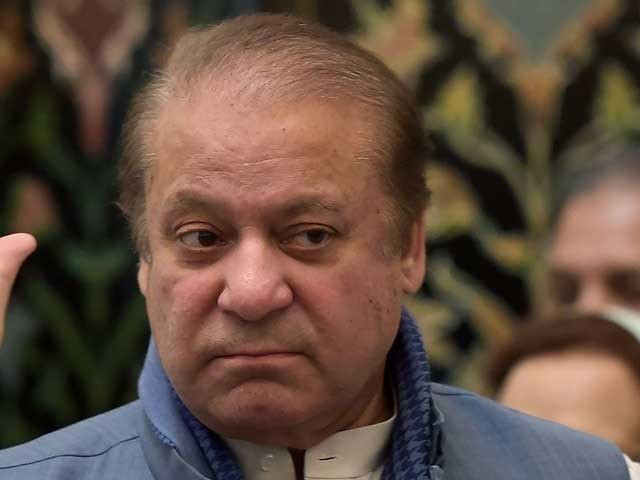 ---
ISLAMABAD:
The Islamabad High Court (IHC) will take up tomorrow (Wednesday) a slew of applications requesting it to stop the auction of three of the properties of former prime minister Nawaz Sharif as a deputy commissioner (DC) decided to hold an auction for sale of Sharif's Sheikhupura land on May 20.
An IHC division bench – comprising Justice Aamer Farooq and Justice Tariq Mehmood Jahangiri – will take up the applications moved by Mian Iqbal Barkat, Aslam Aziz and Muhammad Ashraf.
The applicants have nominated the Islamabad Accountability Court-III judge, Lahore DC, Sheikhupura DC, the National Accountability Bureau (NAB) deputy director and investigation officer as respondents.
The Islamabad Accountability Court-III on April 22 allowed the NAB request to auction the properties of Sharif who was declared a proclaimed offender by the same court on September 9, 2020 due to his failure to join the Toshakhana – gift repository – case.
Read more: NAB given go-ahead to auction Nawaz Sharif's properties, forfeit vehicles
In its three-page written order, the court had directed NAB to sell all the assets and properties of the PML-N supreme leader to which other people have not laid any claim.
The court had ordered Lahore and Sheikhupura DCs to sell Sharif's immovable properties in their respective jurisdictions and deposit their proceeds within 60 after receiving the order. Complying with the order, authorities on Tuesday decided to auction the Sheikhupura property on May 20.
In his application, Mian Iqbal Barkat contended that the Upper Mall's house is the property of the Ittefaq Group – a joint property of Mian Sharif [Nawaz's father], Mian Shafi, Mian Miraj Uddin and other family members and it cannot be auctioned on order of the accountability court.
Aslam Aziz contended that the Lahore DC has confiscated a piece of land of 105 acres. He said he had taken the land from Sharif on lease and has made heavy investment by setting up farms on it. He said his livelihood depends on that land and he would suffer a huge loss if it were auctioned.
In his application, Muhammad Ashraf claimed that he has already bought the 88 kanal piece of land in Sheikhupura from the PML-N leader and made him a payment of Rs77.5m through a cheque.
He said the process of the sale-purchase could not be completed due to the conviction of Nawaz Sharif and that he has already approached a civil court in this regard.
Read more: 'No operation under way at Jati Umra'
In its April 22 order, the accountability court had directed the Securities and Exchange Commission of Pakistan (SECP) to sell all the shares that Nawaz Sharif owned in various businesses and to deposit their proceeds in the treasury.
It had also ordered the Excise and Taxation Officers (ETOs) of Lahore and Islamabad to take into possession the five vehicles belonging to the former PM, to sell them and to deposit their proceeds in the national kitty within 60 days.
The court had also ordered managers of the banks in which the PML-N leader had bank accounts and to transfer the funds available in them to the state treasury in 30 days.
The country's top graft buster on April 19 started the process of auctioning all the properties of Nawaz Sharif and his dependents and moved a two-page application in the Islamabad Accountability Court-III in connection with the Toshakhana case.
According to the NAB application, Nawaz had willfully and knowingly not surrendered to the court.
"Therefore, the attached properties against which no objection/claims have been preferred before the court are required to be sold out as per prescribed procedure," it said.
Providing details of the properties assets, NAB said Nawaz Sharif owns 467,950 shares in Muhammad Bakskh Textile Mill, 343,425 shares in Hudabiya Paper Mills, 22,213 shares in Hudabiya Engineering Company and 48,606 shares in Ittefaq Textile Mills.
He has eight accounts in various private banks, including three foreign currency accounts. Nawaz Sharif has Rs612,000 in his five local bank accounts. In his three foreign currency accounts, Nawaz has €566, $698 and £498 respectively.
According to the report, Nawaz owns a bungalow in Murree, a 15 kanal house in Changla Gali, Abbottabad and property in Upper Mall Lahore.
He and his dependents own more than 1,752 kanals of agricultural lands which include 936 kanal in Mouza Manak in Lahore, 299 kanal in Mouza Baduksani, 103 kanal in Mouza Mall Raiwind in Lahore, 312 kanal in Mouza Sultan, 14 kanal in Sheikhupura district and 88 kanal in Mouza Ferozwatan.
(WITH INPUT FROM NEWS DESK)