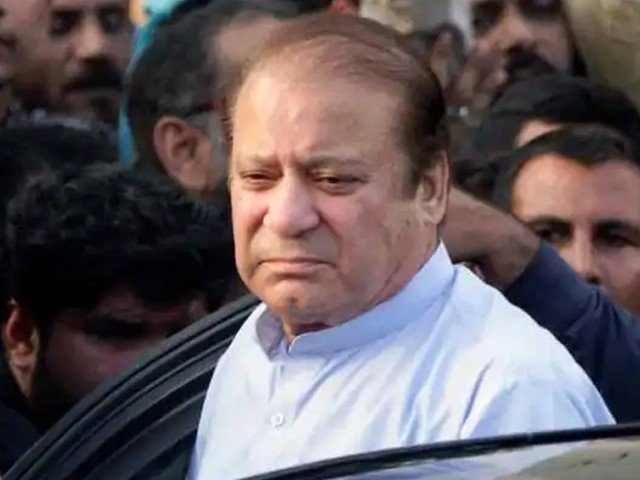 ---
ISLAMABAD:
An accountability court in Islamabad has ordered the Securities and Exchange Commission of Pakistan (SECP) to sell all the shares that former prime minister Nawaz Sharif owns in various businesses and to deposit their proceeds in the treasury.
Islamabad Accountability Court-III on Thursday allowed the National Accountability Bureau's (NAB) request to auction the properties of Sharif who was declared a proclaimed offender by the same court on September 9, 2020 due to his failure to join the Toshakhana – gift repository – case.
In its three-page written order, the court directed NAB to sell out all the assets and properties of the PML-N supreme leader to which other people have not laid any claim.
The court ordered Lahore and Sheikhupura deputy commissioners to sell Sharif's immovable properties in their respective jurisdictions and deposit their proceeds within 60 after receiving the order.
It also ordered the Excise and Taxation Officers (ETOs) of Lahore and Islamabad to take into possession the five vehicles belonging to the former PM; to sell them and to deposit their proceeds in the national kitty within 60 days.
Also read NAB seeks to auction Nawaz's assets
The court also ordered managers of the banks in which the PML-N leader has bank accounts and to transfer the funds available in them to the state treasury in 30 days.
The country's top graft buster on April 19 started the process of auctioning all the properties of Nawaz Sharif and his dependents and moved a two-page application in the Islamabad Accountability Court-III in connection with the Toshakhana case.
According to the NAB application, Nawaz had willfully and knowingly not surrendered to the court.
"Therefore, the attached properties against which no objection/claims have been preferred before the court are required to be sold out as per prescribed procedure," it said.
Also read 'No operation under way at Jati Umra'
Providing details of the properties assets, NAB said Nawaz Sharif owns 467,950 shares in Muhammad Bakskh Textile Mill, 343,425 shares in Hudabiya Paper Mills, 22,213 shares in Hudabiya Engineering Company and 48,606 shares in Ittefaq Textile Mills.
He has eight accounts in various private banks, including three foreign currency accounts. Nawaz Sharif has Rs612,000 in his five local bank accounts. In his three foreign currency accounts, Nawaz has €566, $698 and £498 respectively.
According to the report, Nawaz owns a bungalow in Murree, a 15 kanal house in Changla Gali, Abbottabad and property in Upper Mall Lahore.
He and his dependents own more than 1,752 kanals of agricultural lands which include 936 kanal in Mouza Manak in Lahore, 299 kanal in Mouza Baduksani, 103 kanal in Mouza Mall Raiwind in Lahore, 312 kanal in Mouza Sultan, 14 kanal in Sheikhupura district and 88 kanal in Mouza Ferozwatan.
According to the ETO of Lahore and Islamabad, Nawaz Sharif also owns three luxury vehicles and two harvesting vehicles. Sharif has been in London since November 2019 when the PTI government gave him a rare permission to fly abroad to get medical treatment for a debilitating health condition.
The Islamabad High Court (IHC) on December 2, 2020 also declared Nawaz Sharif a proclaimed offender after he ignored all summonses and proclamations of the bench that was originally formed to hear appeals against his conviction in two graft cases.
The IHC division bench – comprising Justice Aamer Farooq and Justice Mohsin Akhtar Kayani – had also issued show cause notices to the people who had acted as guarantors when the same court had granted bail to Sharif in Avenfield and Al-Azizia references.
COMMENTS
Comments are moderated and generally will be posted if they are on-topic and not abusive.
For more information, please see our Comments FAQ