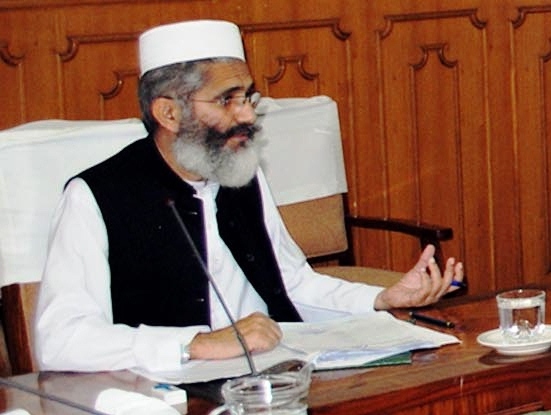 ---
LAHORE:
Chief of Jamaat-e-Islami (JI) Sirajul Haq on Sunday announced the party will hold countrywide protest demonstrations in reaction to the Israeli aggression against unarmed Palestinian civilians on May 21.
The JI chief appealed to the nation to join the protests for the rights of Palestinians and noted that human tragedies were occurring on a daily basis in Palestine.
Read Pakistan asks US to facilitate just solution to Palestine conflict
"The United Nations and American and European human rights advocates have become deaf and dumb," he said. Haq urged the Muslim Ummah to stand with the oppressed Palestinians and asked the rulers of the Muslim world to go beyond statements and tweets.
"Muslim countries should formulate a plan of action to protect the lives, property and honour of the citizens of Gaza."
The JI chief will lead a major protest in Islamabad on May 21. On Friday, Haq called Foreign Minister Shah Mahmood Qureshi and stressed that Pakistan should take lead in the current situation.
Qureshi said the whole nation including all the political parties were united on the issues of Kashmir and Palestine. He said Al-Aqsa Mosque was one of the holiest sites for Muslims as well as the first Qibla for them, so its protection was part of their faith.
Qureshi apprised the JI chief of the premier's ongoing contacts with the international community seeking an end to the ongoing aggression and a peaceful resolution to the dispute.
The JI chief assured the foreign minister of his party's all-out cooperation on the Palestinian cause.