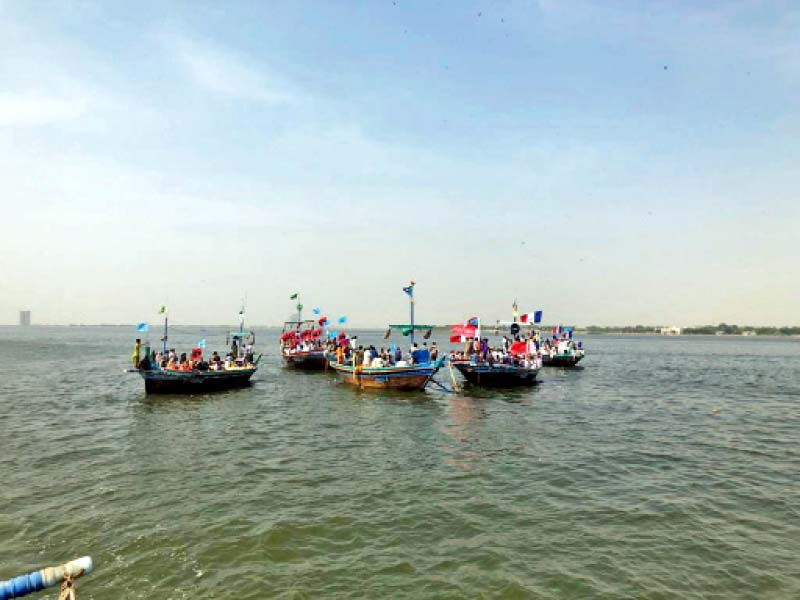 ---
KARACHI:
A pall of gloom hangs over the closely knit fishing community of the Ibrahim Haideri, the otherwise happy-go-lucky merry men of the seas are distressed for the safety of crews on board 400 boats that have yet to reach safe moorings.
Many people are holding special prayers for the fisherfolk still out in the Arabian Sea, said Allah Dad Lashari.
Barring exception, most of the fisherfolk are highly religious. "when the sea is throwing the boat around, there is little else we can do except pray," Lashari said.
Moreover, Muhammad Ibrahim said that they keep a copy of Holy Quran on the masthead of the boat, safely packed in a box. The fishing trip also starts with a session of prayers, charity and distribution of sweets, he said.
But for now, everyone in this fisherfolk's town looks depressed.
People are either worried about the missing crews, or the losses they now face for losing the catch. "We go out in the sea for at least a month," Ibrahim said.
The preparations require at least Rs3 million in terms of fuel, food, wages and other expenses, he said. Many trawler owners borrow cash from money lenders to fund the trip, while others make advance deal with fishmongers and traders.
Sikander said that fishing boats and trawlers came back empty, therefore, the owners be debt-ridden for quite some time.
PTI leader in PPP stronghold Pakistan Tehreek-e-Insaf Sindh Vice President and Leader of Opposition in Sindh Assembly Haleem Adil Sheikh deplored the condition of the jetty of Ibrahim Haideri, as well as, the living conditions of fisherfolk of this neglected locality.
Government should give financial support to fisherfolk stopped from venturing into the sea to make an income, Sheikh said interacting with the local community and the media during his visit to Ibrahim Hyderi Village in wake of possible cyclone.
He was accompanied by party leaders Adnan Ismail, Aijaz Swati, Gohar Khattak, Jameelan Baloch, Abdul Razaq Shujra and others.