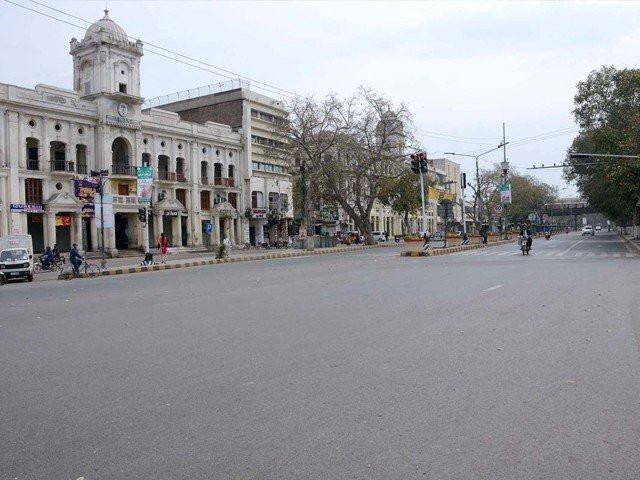 ---
LAHORE:
In spite of strict lockdown orders placed by the government, several shop owners defied the business ban in connivance with local police officials.
A barber who operates his shop in Sabzazar said police visited the market to ensure closure of all notified businesses at 6pm.
"After that, shop owners paid hem somewhere between Rs1,000-5,000 to get excess business time or avoid legal action if caught," he revealed on the condition of anonymity.
"People would visit our shop a few days before Eid to get a haircut, shave or enjoy other grooming services and with the lockdown in place, we were forced to bribe the police to stay operational," he added.
He further revealed that sometimes the employees of the district administration collected money for extra work hours and sometimes it was the cops who arrived to extort a couple of thousand rupees a day.
"Those who pay money can run their businesses without any hurdle or fear," the salon owner alleged.
The provincial administration had announced a strict lockdown in Punjab from May 8 to 16 to prevent rapid pandemic infliction among citizens.
Despite continuous announcements by the health officials for the citizens to follow safety guidelines, the people and the business community seemed to tilt towards commerce instead of health consciousness.
Speaking to The Express Tribune, a health department official said the purpose of the lockdown was to keep citizens safe from the deadly coronavirus and they should not flout the standard operating procedures (SOPs) to avoid an uncontrollable spike in the number of cases.
As per reports, Lahore police registered more than 4,500 cases of coronavirus SOP violations over a period of two days. The police also organised a flag march on Thursday to inculcate awareness among the people about the importance of following the government defined pandemic rules.
Even though the administration claimed to have strengthened the crackdown against shopkeepers and citizens for defying SOPs, shop owners let carefree citizens shop secretly till they were caught and barred from business.
The Express Tribune has learnt that in many well-known markets of the city including Iqbal Town, Karim Block, Moon Market, Islampura, Dharampura, Yateemkhana, Sabzazar, Gulshan Park, Fatehgarh, Gulshan-e-Ravi and Anarkali, businesses were running after paying bribes to officials.
According to Wasif Butt, a trader of clothes in Iqbal Town Karim Block, the government enforced lockdown before Eid caused severe financial losses to shopkeepers.
Published in The Express Tribune, May 17th, 2021.