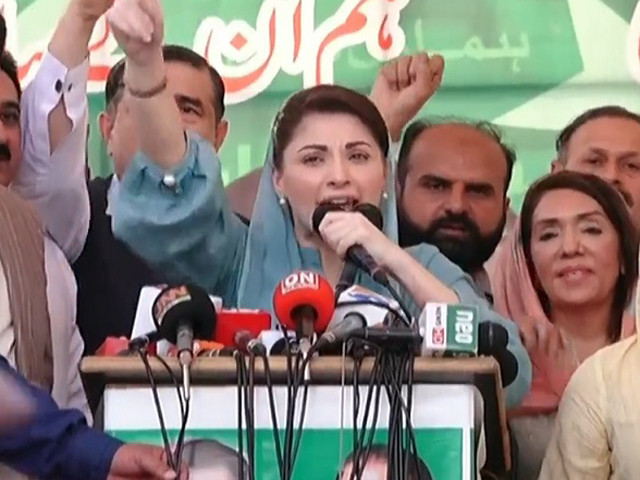 ---
SHEIKHUPURA:
Forcefully defending incarcerated PML-N leader Javed Larif who is facing treason charges, PML-N Vice President Maryam Nawaz has said if talking about justice, supremacy of the Constitution and autonomy of the state institutions is treason, then "we would proudly call ourselves traitors."
"If standing by truth, striving for the supremacy of the Constitution and the state institutions and following the law of the land is treason, then we will do this treason again and again," Maryam said during a visit to Latif's residence in Sheikhupura on Sunday.
In an apparent reference to Pakistan khappay [Pakistan must stay] slogan raised by the PPP supreme leader Asif Ali Zardari after the assassination of his wife Benazir Bhutto in 2007, Javed Latif had said the PML-N would not raise a similar slogan if anything happened to Maryam Nawaz.
A private citizen later lodged an FIR against the PML-N lawmaker for inciting people against the state institutions and the police arrested Latif on April 27.
Rejecting the treason allegations, Maryam said in Pakistan's history, political leaders have always been branded as traitors.
She cited the example of Fatima Jinnah – the sister of the founder of the nation – and her father, former prime minister Nawaz Sharif, "who were declared traitors by the forces which are afraid of them".
Maryam claimed that a treason case was registered against Javed Latif for standing with Sharif.
"There can be no bigger service to the nation than to raise the slogan of truth despite knowing the consequences. They may brand us as traitors; they may get fatwa issued against us but the nation will embrace us as heroes," she added.
Referring to Prime Minister Imran Khan, the PML-N vice president said the real traitor is the one who gave Kashmir to India on a silver platter and who accused Pakistani embassies and diplomatic staff of not working properly.
"The real traitor is the person who makes people protest at the Prime Minister House every other day; who makes people stand in queues for sugar; who uses state institutions against an elected PM [Nawaz Sharif] to take revenge," she said.
Maryam said Imran Khan talked against the army and the inter-Services Intelligence (ISI) during one of his visits to India "and this is called treachery." Addressing herself to the powers that be, she said: You imposed a selected person [Imran Khan] on the nation through fake polls and this is called treason.
FIR registered against PML-N leaders
Later, Sheikhupura district police registered an FIR against local PML-N leaders including Javed Latif's son for violating the coronavirus standard operating procedures (SOPs) during Maryam's visit.
According to the FIR, Hasan Javed son of Javed Latif and a number of other PML-N leaders violated both the Covid-19 SOPs as well as lockdown SOPs and staged a rally when Maryam visited the city. The FIR is registered under section 269, 270 PPC and Punjab Infectious Disease ordinance.