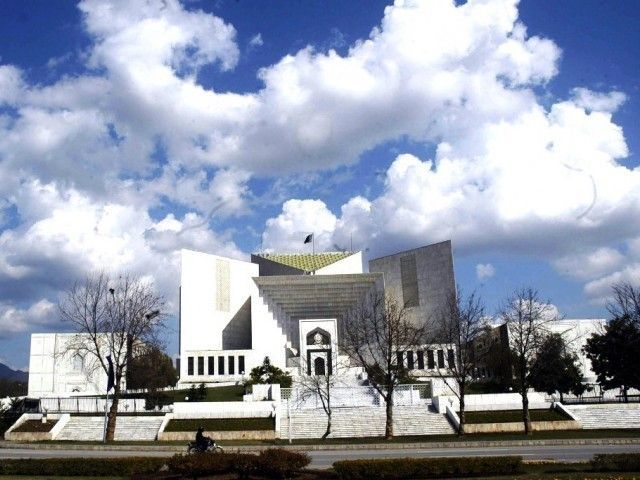 ---
ISLAMABAD:
Supreme Court judge Faisal Arab retired on November 4, 2020 after completing his term while Justice Manzoor Malik also retired on April 30, 2021. However, despite an ever-growing caseload, two vacant positions in the Supreme Court have not yet been filled. Another apex court judge, Justice Mushir Alam, will also retire this year on August 17.
The Supreme Court comprises 17 judges including the chief justice of Pakistan and many experts believe that this strength is insufficient to deal with the cases. At present the number of pending cases in the apex court is 49,000. Talking to The Express Tribune, Supreme Court Bar Association (SCBA) Secretary Ahmed Farooq Rana claimed that the reason for this delay in filling the vacant SC posts is internal differences.
"But the common man is suffering because of these rifts," he added. Pakistan Bar Council's (PBC) former vice chairman Syed Amjad Shah said judges should only be elevated to the apex court in the light of the Al-Jihad Trust case verdict. "If the verdict had been implemented in letter and spirit and judges had been elevated on the basis of their seniority, then no such problem would have arisen," he added.
READ Number of pending cases in Supreme Court nears 49,000
He said former chief justice Mian Saqib Nisar deviated from the judgment and introduced the principle of fitness – competence – for elevation to the Supreme Court. "Due to this change, junior judges were also appointed to the Supreme Court in view of their competence," he added. Senior lawyer Akram Chaudhry said the Judicial Commission of Pakistan (JCP) — the constitutional forum that has a key role in judges' appointment — must soon draft new rules for judges' elevation to the top court so that such differences could be ironed out.
The Balochistan Bar Council (BBC) – during a lawyers convention held in Quetta on April 10 – demanded that a Balochistan High Court (BHC) judge be elevated to the SC "as not a single ethnic Baloch judge [hailing from the province] has been elevated to the Supreme Court since 2014." The process for elevation of a judge to the SC has come under severe criticism in the last three years as the last four apex court judges were elevated out of turn, ie, in disregard of the principle of seniority.
Peshawar High Court (PHC) former chief justice Waqar Ahmad Seth, the Khyber Bar Council and the Sindh Bar Council had even challenged the elevation of three junior Lahore High Court (LHC) judges to the SC.
COMMENTS
Comments are moderated and generally will be posted if they are on-topic and not abusive.
For more information, please see our Comments FAQ