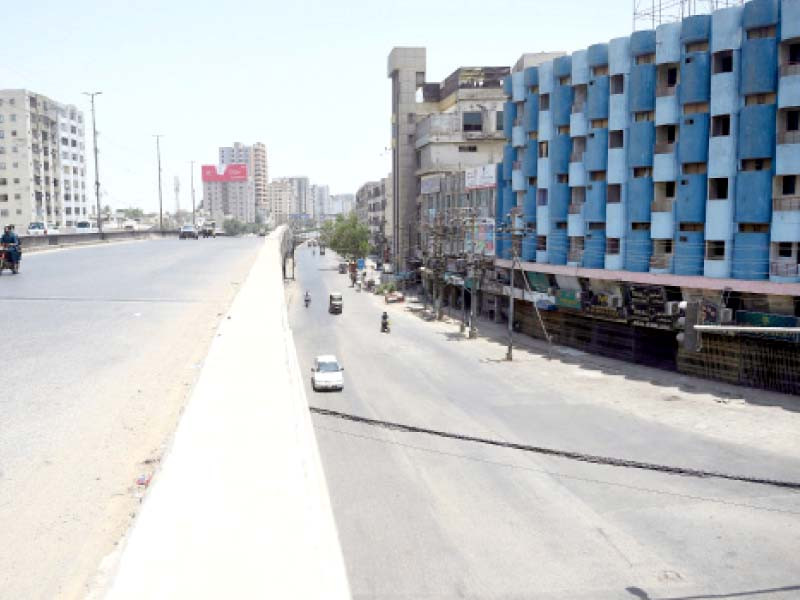 ---
KARACHI:
When the clock struck 11 on Thursday, most citizens looked away from their television screen. It had been hours since the moon sighting began, Eidul Fitr would undoubtedly fall the day after.
That the new moon would be visible had been deemed impossible and unlikely by the Federal Information Minister Fawad Chaudhry and the Pakistan Meteorological Department, respectively. But then, the Ruet-e-Halal committee announced the improbable, and citizens scrambled to complete Eid preparations.
Sweat meats had to be prepared, Eidi envelopes had to be prepared, dresses to mark the occasion, accessories, bangles and henna all had to be sorted. After the all-night preparations, Eid prayers saw some unshaven, scruffy faces and eyes dropping with sleep.
The raging pandemic had already put a damper on festivities, with public transport suspended, markets shut a week prior, and a ban on all outdoor recreational activities, including dining out. Citizens, for the large part, restricted festivities to their homes.
Given that this was the second Eid during the pandemic, at home services were readily available and citizens were more familiar with the experience.
READ Eid detox: Four ways to feel refreshed
Faisal, a youngster employed at a local hair salon, said that several clients had opted to have their grooming done at home this year. Those who had banked on a 30-day fasting month and made appointments for the day before Eid were left in the lurch.
He said that due to lockdown, shops were closed at 6pm and a large number of citizens were deprived of having their hair cut or shaving and trimming beards done during Eid.
Beggars hit hard
While the Covid lockdown affected various walks of life, the baggers coming to Karachi from different parts of the country for Eid season were also affected.
For decades it has been a practice that hordes of beggars descent on the city at the start of Ramazan. Beggars used to roam the city's busiest roads and bazaars in droves, but now they face empty roads and locked markets and no one to beg from.
Citizens say that due to the lack of professional beggars, this time the citizens helped their deserving relatives and the needy in the neighbourhoods.
Mai Deena, a beggar begging in Liaquatabad, told that most of the beggars came to Karachi early in Ramazan, but the lockdown and business shutdown severely affected the begging season and most beggars reduced their earnings by borrowing. Due to this, they returned to their home empty handed.
Food for blues
After the Sindh government allowed takeaway service before Eid-ul-Fitr, there was some hustle and bustle in the city and citizens started buying traditional dishes, barbecues and other food items for their families.
Allowing takeaways has provided employment to a large number of young delivery workers during Eid and significantly increased their income.
In connection with the preparation of traditional dishes for Eid-ul-Fitr, a large number of citizens had already bought the groceries and drinks.
In most parts of the city, people bought beef, mutton and poultry meat, flour, pulses, sugar, rice, oil, milk, yogurt, greens and other food items before the occasion but it continued during the Eid as well.
Grocery stores were crowded in most parts of the city. The Covid SOPs were completely violated by the public at these shopping malls.
Safe shopping
Due to the Covid Lockdown in Karachi before Eidul Fitr, the traditional bustle was not seen in Eid shopping. Due to the closure of businesses and markets, the silence ruled in most parts of the city.
A large number of citizens had completed their Eid shopping before the Covid lockdown. Prior to Eid, a large number of citizens made Eid purchases with reference to stalls set up in different areas and items sold on pushcarts and stalls due to the closure of shops.
In Kemari, Kharadar, Orangi Town, Banaras, Baldia Town, Landhi, Korangi, Malir, New Karachi, Surjani Town and other areas, various youths and individuals set up stalls in the streets and neighborhoods for readymade garments, shoes, cosmetics and other items.
Published in The Express Tribune, May 16th, 2021.