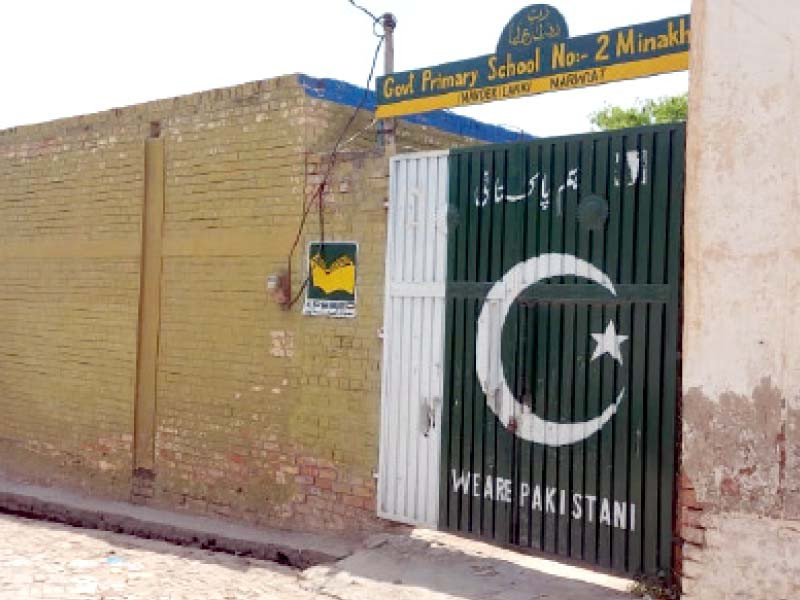 ---
DI KHAN:
The building of the Mandar School in Lakki Marwat district of Khyber-Paktunkhwa (K-P) has been in constant state of decay which needs to be repaired and restored to its original state.
The primary school is situated in the middle of the Lakki Marwat city and is officially known as Mena School but popularly people call it Mander School. The School was established in the building of an abandoned Hindu temple soon after the partition.
Talking to The Express Tribune Headmaster Fazal Rehman said that the original two rooms of the temple are in very bad shape due to lack of repair and could collapse any time while four new rooms have been built for the school which are in use.
"This is a historic temple due to its age located centrally in the Lakki Marwat city and the original two rooms of the temple are in crumbling. It should be repaired and preserved in its original form in order to preserve it for the coming generations," he said.
A local Hindu Akash Ajit said that before the partition there were four Hindu temples in the Lakki Marwat city which were abandoned as the community fled to India in panic after the independence.
"Three historic temples are gone. They were razed to ground by the Auqaf Department and commercial plaza were constructed on its land. One temple survived as it was used as a Primary School," he said, adding that the temple was built originally in 1870 but it was registered 30 years later in 1902 due to the death of Hindu elders whose death led to disunity among the community.
"It was finally registered as temple in 1902 by the community. Its original two rooms were initially used for the classes but later four new rooms were built and the original rooms were locked which are crumbling today," he said, adding that it is the responsibility of the provincial government as well as the Auqaf Department to restore and repair these room, adding that Hindu community had an emotional attachment with it.
When contacted Deputy Commissioner Lakki Marwat Abdul Haseeb said that they were aware of the situation of the mander school and they were trying their level best to repair and restore the two ancient rooms of the temple in order to preserve it.
Published in The Express Tribune, May 16th, 2021.
COMMENTS
Comments are moderated and generally will be posted if they are on-topic and not abusive.
For more information, please see our Comments FAQ