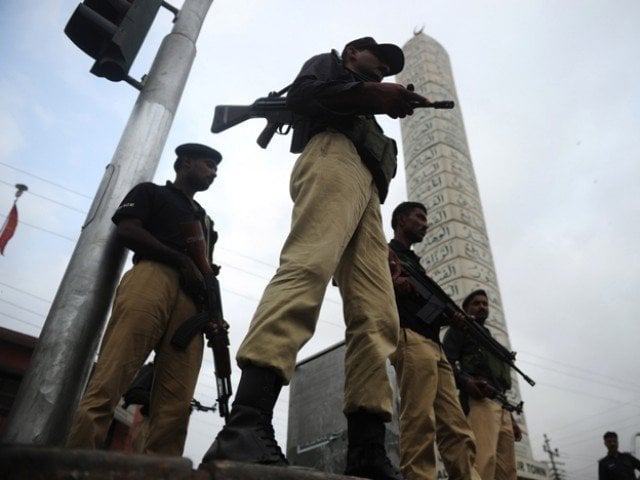 ---
LAHORE:
In the past week, two video clips of policemen torturing people and at least two cases of attacks on police teams were reported in the city.
In a video, New Anarkali Station House Officer (SHO) was seen torturing innocent people passing through a street.
The SHO allegedly carried a stick to beat up anyone who passed by him. The SHO was escorted by other policemen. The police team did not talk or give any command but just resorted to beating people.
In another video, a food vendor was allegedly thrashed by an SHO in Nishtar Colony. He not only assaulted the vendor but also overturned his cart. As a result of the incident, all the vendor's food items were wasted.
The same week, a video from Gujranwala also surfaced. Two constables were seen brutally torturing a youth in a market. They not only thrashed him but also tore his clothes besides hurling abuses and humiliating him.
However, the policemen were then assaulted and manhandled by a large number of people who had gathered on the spot. They not only damaged a police van but also thrashed the policemen, leaving some of them with bleeding wounds.
Police abuse of power against innocent citizens has a possible correlation with public resentment for the force.
Abuse of power is the reason behind the police department's tainted image. Since the overall negative perception of the trigger-happy force is the underlying cause behind the police not being respected, the incidents of attack on police teams are also on the rise.
A citizens during a discussion commented that the police had been corrupted, politicised and misused to the level that it had lost its prestige. "People these days do not bother about police nor do they fear the force." He continued that people thought that the personnel could be managed with some influence or financial resources.
He further said that he had witnessed a time when a police constable just pass through a locality and the people would fear to face him.
It is a sad reality that certain police officers develop an attitude to ignite fear in the name of respect among the citizens.
However, it is a fact that the number of incidents of attacks on police have also increased.
As far as incidents of police personnel facing violence were concerned, the first case in the past week was reported near Paragon Housing Society. A police team reportedly was busy in distributing facemasks and making videos.
Two youth were annoyed after a policeman made their video after distribution of the masks. They were joined by other residents of the area.
In the other case, villagers assaulted a police party in Hayer. Reportedly, a private housing society's management and villagers had a dispute over a piece of land. A police team reportedly was responding to a law and order situation arising out of the dispute when it came under attack.
A few days ago, a traffic warden was also subjected to physical assault in the provincial capital. A police team from Lahore was assaulted by citizens in Sialkot. Reportedly, the team was on a raid to arrest a suspect.
The top brass of Punjab Police need to change the policing culture and improving police's image.
They need to realise that we were living in changed times. Social media and digital revolution have made it literally impossible for anyone to hide any sort of transgression anymore.
Common people know that now they do not have any forum to be heard but social media platforms. They feel empowered when they raise their voices on such platforms.
The rank and file need to realise that the people can no longer be frightened through traditional means of policing.
The continuity of such practices will further deteriorate their status and image in society.
They must be warned of the times when policemen would find it difficult to move freely in streets.
Its better they should mend and adopt the modern models of policing that are not based on fear or deterrence but professionalism, cooperation and community policing.
They should also note that incidents of police torture and attacks on police were a result of flawed policing culture and a lack of professionalism.
Published in The Express Tribune, May 16th, 2021.