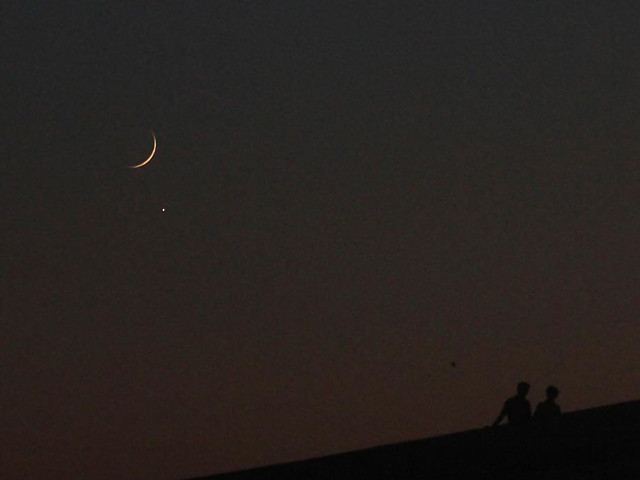 ---
The Central Ruet-e-Hilal Committee on Wednesday announced that the Shawwal moon has been sighted in Pakistan and Eidul Fitr would be celebrated across the country tomorrow on Thursday (May 13).
The announcement was made after the moon sighting committee met in Islamabad with its Chairman Maulana Abdul Khabir Azad in the chair.
Addressing a press conference following the meeting, Maulana Azad said that the zonal committees received shahadats (testimonies) from all over the country and the decision was made "unanimously".
"We received shahadats from Chaman, Qilla Saifullah, Peshawar and many other localities including some in Sindh," he added.
Mufti Shahabuddin Popalzai, Khateeb of the historic Qasim Khan Mosque in Peshawar, had already announced Eidul Fitr on Thursday after claiming to have received 23 shahadats (testimonies).
"Thursday, May 13, will be the first day of Shawwal," Popalzai announced earlier in the evening, urging the Central Ruet-e-Hilal Committee to follow the suit and accept their testimonies.
'Just say you want to celebrate Eid with Afghanistan or Saudi Arabia'
Meanwhile, Federal Minister for Information and Broadcasting Fawad Chaudhry has said that the age of Shawwal moon in Pakistan is 13 hours and 42 minutes at present and it is not possible to see the crescent today.
'Whoever wants to celebrate Eid with Saudi Arabia, it is an option for them but would it be wise to end the holy month [of Ramazan] by lying," Fawad questioned.
"Just plainly say you want to celebrate Eid with Afghanistan or Saudi Arabia," he responded to those who claimed sighting the moon.
Federal Minister for Religious Affairs and Interfaith Harmony also took to Twitter to say that deciding on Eid or Ramazan before the decision of the Central Ruet-e-Hilal Committee is not appropriate for a minister or a government official.
"The designated body of government is represented by all concerned departments including the leading ulema. Announcing such decision in advance is tantamount to making fun of religious practices," he added.
Last week, Information Minister Fawad Chaudhry had predicted that Eid would be celebrated on Friday (May 14), according to the Ruet application.
However, he clarified in a tweet that the final decision would be announced by the moon sighting committee.
The Pakistan Meteorological Department (PMD) had also said that chances of sighting the Shawwal moon on May 12 were close to none as this year in Ramazan 30 fasts would likely be observed and Eidul Fitr would probably fall on May 14.
According to the Met department, the Shawwal moon will born on May 12 at 12:01am as per the Pakistan Standard Time so the chances of sighting a new moon on Ramazan 29, were close to none.
Read more: Saudi Arabia, UAE to celebrate Eidul Fitr on Thursday
It further predicted: "On the day of the meeting the sky will remain clear in most parts of the country, while it will be partly cloudy at some other places."
"If Eidul Fitr falls on Friday, rain with lightning will be expected in several northern areas of the country, while the weather will remain hot and dry in southern Punjab, Sindh and Balochistan," PMD Senior Director Dr Zaheer Babar said.
On Tuesday, Saudi Arabia had confirmed that the first day of Eidul Fitr would be on Thursday (May 13) as the Shawwal moon was not sighted in the kingdom.
The Shawwal crescent was not sighted in the UAE as well and the Gulf country would mark the first day of Eid on May 13.
COMMENTS
Comments are moderated and generally will be posted if they are on-topic and not abusive.
For more information, please see our Comments FAQ