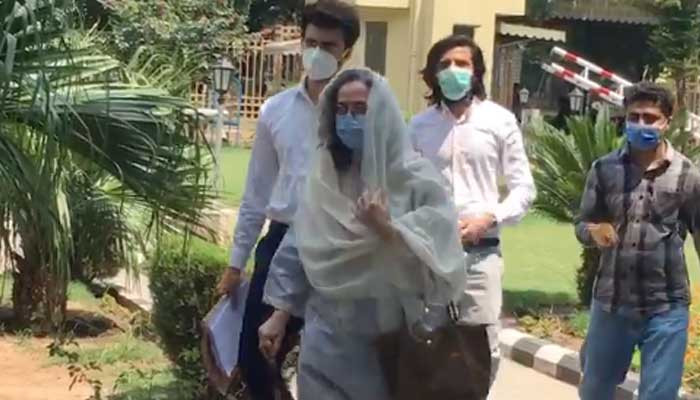 ---
ISLAMABAD:
Sarina Isa, wife of Supreme Court judge Justice Qazi Faez Isa, on Wednesday questioned the conduct of former Attorney General of Pakistan Anwar Mansoor Khan over his remarks against her in a recent interview.
In an interview broadcast on a YouTube channel, Mansoor reportedly alleged that Sarina opened a foreign currency account with another name.
Sarina, in her two-page response, asked how the former AGP got a copy of the confidential report of the Federal Board of Revenue (FBR) chairman.
"The chairman was not a party nor [he] filed his report in the court, so how did you get it," she asked in the letter.
"Was the report prepared as [part of] a plan B," she said and added that, "referencing the report confirms that you are part of yet another conspiracy, the roots of which your own disclosure has unveiled."
Also read Justice Isa off the hook, finally
On April 26, in a rare development, the Supreme Court -- with a majority of 6 to 4 -- allowed the review petitions filed against its June 19, 2020 order for the Federal Board of Revenue (FBR) to conduct an inquiry into the foreign properties of the family members of apex court judge Qazi Faez Isa.
With this verdict, Justice Isa – who is in line to become the chief justice of Pakistan – is vindicated of the allegations levelled in a June 2020 presidential reference that claimed that the apex court judge had committed misconduct by not disclosing his family members foreign assets in his wealth statement.
"By majority of six to four [Justice Umar Ata Bandial, Justice Sajad Ali Shah, Justice Munib Akhtar and Justice Qazi Muhammad Amin Ahmed dissenting], these review petitions, except as mentioned below, are allowed," said the order, announced by head of a 10-judge bench Umar Ata Bandial on Monday.
The order also stated that, "All the subsequent proceedings, actions, orders, information and reports in pursuance of the directions contained in the short order dated 19.6.2020 and the detailed reasons thereof, are declared to be illegal and without any legal effect.
"Resultantly, any such proceedings, actions, orders or reports cannot be considered or acted upon and pursued any further by any forum or authority including the Supreme Judicial Council (SJC)," they noted.