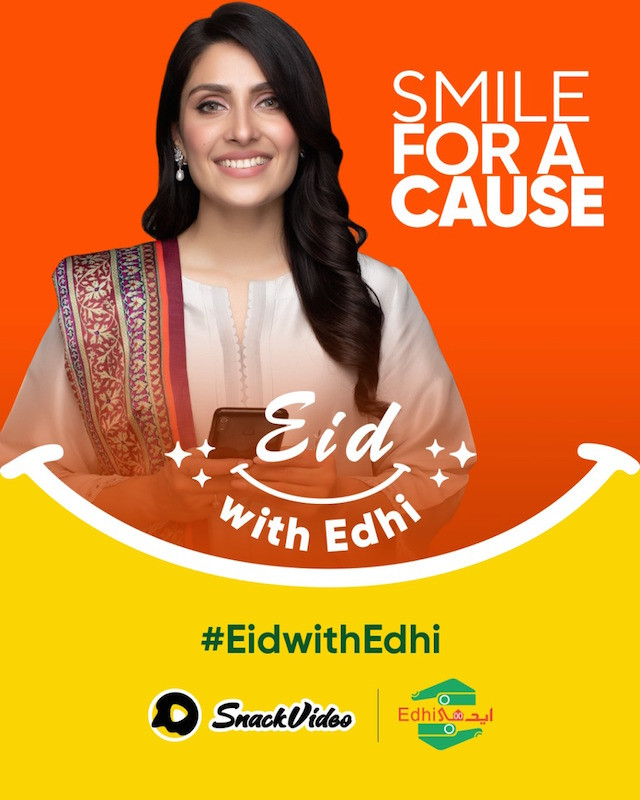 ---
The holy month of Ramadan is almost at its ending stages, as the Muslims brace themselves for the joyous Eidul Fitr. We all know, Fahad Mustafa's popular show Jeeto Pakistan requires no introduction. A few days ago, Ayeza Khan, the renowned Pakistani TV actress, made an appearance in Jeeto Pakistan's Ramadan special show and shared her Ramadan experience with the audience. During this special month, Ayeza participated in SnackVideo's Ramadan campaign #EidwithEdhi. The gorgeous actress expressed her best wishes to the platform SnackVideo for the overwhelming response it has garnered during this holy festival via their in app challenges.
With the commencement of Ramadan 2021, SnackVideo had launched a campaign called #EidReward that featured dramas, recipes, and Ramadan traditions to mark this pious month. Its Ramadan hashtag challenge series has seen thousands of people documenting their wonderful meals and pastimes, and winning exclusive rewards.

SnackVideo's in-app challenges for Ramadan include:



#EidRecipe

With more than 209,000 pageviews and 125,000 user participation to date, this hashtag showcased a plethora of scrumptious festive Iftar recipes from the SnackVideo community, including dishes like traditional samosas, pakora, chicken rolls, Shami Kebabs, and fruit salads. Users like @YourFoodLab also recorded their creative recipes such as the beautiful homemade chocolate coffee, and they got reposted by hundreds of people in no time.


#EidDrama

Dramas and lip-syncs always spark social media frenzy, and this Ramadan made no exception. With this hashtag, creators shared comforting and comical moments that resonated with the nationwide people during fasting. In fact, one heart-warming video received an astonishing response with over 133k views and 12.4k likes by @RamadanMoralStories. The video was based on a family's white lie on food sharing. The challenge has received over 223,000 views in the first two weeks, with more than 64,000 users sharing up to 137,000 videos.


#EidSaeed

Under this hashtag, users documented their daily routines and shared their good wishes. Videos under this hashtag with highest likes mainly focused on Ramadan outfits and various fun facts encountered during the fasting month. So far, this challenge has received over 590,000 pageviews and 204,000 videos, marking the passion of Pakistanis in celebrating the spirit of Ramadan and spreading the message of hope and compassion.

Eid Mubarak event

Recently, SnackVideo has initiated the brand new "Eid Mubarak" event. The event includes four hashtag challenges that cover celebrating moments, retaking old photos, Q&A and AR. It's quite amazing to witness that amidst these testing times, this short-video platform helped spread positivity, and offered people with a unique way to celebrate Eidul Fitr.

To enjoy all kinds of fun activities even more, simply check out SnackVideo.