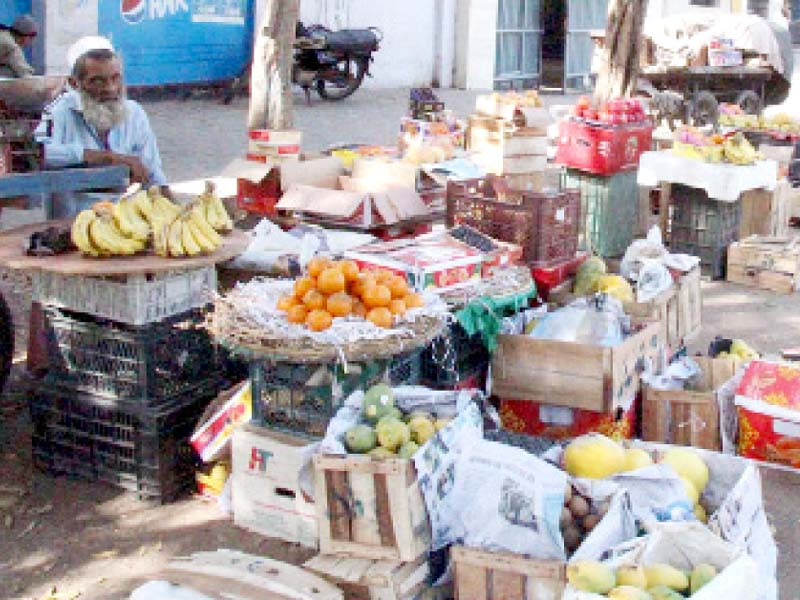 ---
KARACHI:
While the advent of Ramazan often, and rather regrettably, sees a surge in the prices of fruits and vegetables, this year a youth group countered seasonal inflation in the metropolitan city one fruit basket at a time.
The Karachi-based collective, led by a young social-worker Mustufa Hanif, has been offering the city's middle and low-income population access to high-quality fruits at remarkably discounted prices.
The initiative, which distinguishes itself from charities, is primarily aimed at catering to the common person without hurting their sentiments.
Every day for the past month, Hanif and his team have been setting up their stall a stone's throw from Karachi's Jail Chowrangi, where fruit packets weighing between two to two-and-a-half kilograms are sold for a negligible price for Rs20 a packet.
"We pack some 800 to 900 packets of assorted fruits a day, and they are all gone by sundown. Each bag contains at least three kinds of fruits, the collective cost of which would come down to Rs200-Rs250 in the open market, but we still charge a bare minimum so that no feels like they're queuing in the breadlines," shared Hanif, who also runs a popular YouTube channel.
Read Ramazan bazaars to convert into Eid bazaars
"Many of these people, although in dire need, shy away from accepting Zakat and Sadqah or appearing eligible for charity. Bachat bazaars are often their only option. But with the advent of the holy month food prices there also tend to skyrocket out of their reach. So through our initiative called the Sasta Fruit Stall, we operate as just another Bachat Bazaar, which is still affordable for citizens in need," he added.
According to the social worker, the fruits sold at his stall are provided to the Sasta Fruit Stall as not charity but well-intentioned gifts from the city's affluent class, on a daily basis. "My father and a few of my friends have been volunteering at the stall for the past month. But we have also hired 10 workers for a wage of Rs500 per day, to help around with the packing and selling," told Hanif.
High-quality fruits worth Rs100,000 are handpicked from the market and brought to the stall on a daily basis, where they are sorted and packed between 2.00PM to 5.00PM and then sold to the public. Each packet carries six bananas, three apples and one muskmelon or a watermelon. A small melon is sold for Rs10 while a large melon is priced at Rs 20. The buyers begin arriving at 4.00PM. Separate queues are formed both for men and women. While SOPs are enforced and face masks and sanitisers are provided to queuing buyers, to prevent the spread of coronavirus.
Muhammad Hanif, father of Mustufa Hanif told The Express Tribune that the Sasta Fruit Stall initiative first began with 100 fruit packets, which with the contribution of the affluent people, has gradually increased to 700-900 packets. "The small price tag we attach to the fruit packets helps us create a subsidy, which in turn helps us keep the programme going and growing without any hiccups. We recently also launched the Sasta Fruit Mobile Van and intended to further expand our initiative to gift new clothes to those who cannot afford, during the final days of Ramazan," the father informed.
Muhammad Sohail, a middle-income citizen who has been benefitting from Hanif's Sasta Fruit Stall initiative the past month, said that the programme is a welcomed gesture which has aided thousands of people in the holy month while not compromising on their dignity. "Hoarders and mafias artificially increase food prices every year during Ramazan, throwing fruits and vegetables out of the reach of the common people. This is a wonderful initiative and more such programmes should be started in every union council of the city to combat this seasonal inflation," he told The Express Tribune.
Published in The Express Tribune, May 12th, 2021.