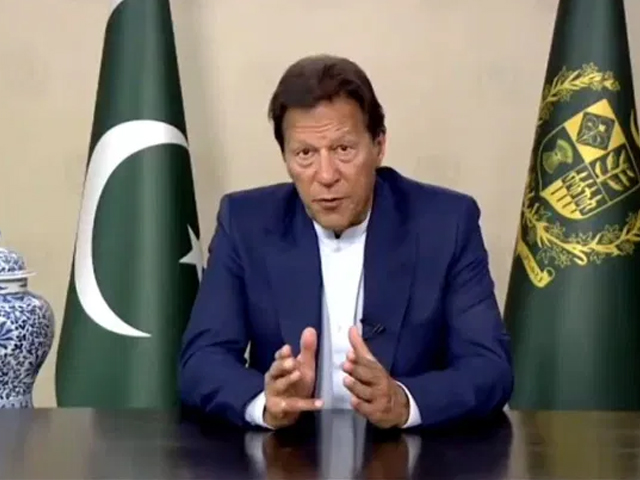 ---
ISLAMABAD:
Prime Minister Imran Khan on Tuesday praised the Foreign Office and the country's missions abroad for doing "excellent job" on the diplomatic front while conceding that his address to the envoys should not have gone live.
Separately, Foreign Minister Shah Mahmood Qureshi told a news conference that no "bashing of Foreign Office" would be allowed endorsing the view that PM's interaction with envoys should have remained in-camera.
The apparent U-turn by the prime minister came after Foreign Office officials strongly protested over his statement in which he castigated the envoys for "indifferent" attitude towards Pakistanis living abroad particularly the labour class.
His criticism stemmed from a series of complaints against the Pakistani missions in Saudi Arabia for not cooperating with the diaspora. The complaints led to the suspension of Pakistani Ambassador to Saudi Arabia and recalling of certain other officials. An investigation has already been ordered by the PM Office into those complaints.
However, the public criticism did not go down well with the FO officials, who insisted that PM Imran appeared to have not been properly briefed about the role of envoys. They also raised questions as to why the interaction with envoys was made public as it gave the impression that the entire Foreign Office was not doing its job.
They conveyed their concerns to the foreign minister, who took up the issue with the premier.
On Tuesday, the prime minister in a televised statement clarified that his remarks gave a wrong impression as if he was not happy with the entire Foreign Office.
Also read: Fawad defends PM Imran's criticism of Pakistani missions
"Our embassies and foreign office are doing an excellent job as far as diplomacy is concerned. They are doing a great job to highlight Kashmir and other issues," he said while conceding that his virtual session with envoys should not have gone live.
Earlier, Foreign Minister Qureshi said that while PM Imran had every right to take note of the complaints he received about certain missions but admitted that his address with envoys should not have gone live.
When asked, FM Qureshi made it clear that no one was bashing the Foreign Office nor anyone would be allowed to do the same.
He said a task force had been set up to make proposals for the way forward and how to improve the performance of the foreign missions.
On Kashmir, the foreign minister made it clear that there was no confusion as far as Pakistan's stance on the long-standing issue was concerned.
After his recent interview that created controversy, Qureshi clarified that Kashmir is not an internal matter of India.
He went on to say that Pakistan would only resume talks with India when New Delhi reviews its August 5, 2019 actions.
On the recent visit of Premier Imran to Saudi Arabia, FM Qureshi termed the trip as unprecedented saying the results of high-level huddle would be visible in coming days.
Also read: 'Pakistan highly condemns attack on Palestinians by Israeli forces'
Responding to a question, he insisted that Pakistan had not paid any price or compromised on its interests. On the contrary, he added that on most issues Pakistan stance had been vindicated.
He also hinted at the possibility of Saudi Crown Prince Muhammad Ben Salman visiting Pakistan. For this purpose he said he had invited the Saudi foreign minister to lay the necessary groundwork.
On the current situation in the Middle East, the foreign minister said Turkey is proposing a ministerial-level meeting of the Organisation of Islamic Cooperation (OIC) to discuss the Israeli attack against Palestinians at Al Aqsa mosque.
COMMENTS
Comments are moderated and generally will be posted if they are on-topic and not abusive.
For more information, please see our Comments FAQ