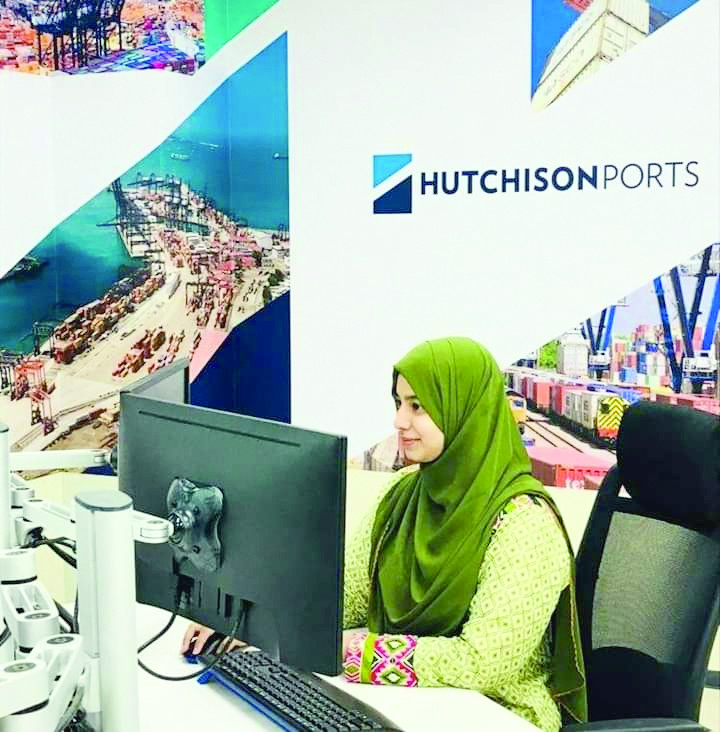 ---
KARACHI:
In Pakistan, a society which strictly defines gender roles, is often difficult for women to succeed in careers traditionally dominated by men. Most are discouraged by the barriers that begin early - at home, at school, in the professional world - societal norms designed to deter them from fields typically considered 'just for men'. The ports and shipping industry is one such field.
Khadija Saleem is one woman who has managed to break these barriers. She is the only female vessel planner in the country and is part of a team responsible for planning cargo stowage at the Hutchison Ports Pakistan (HPP) regional operations centre (ROC).
Khadija, 26, is the eldest of five siblings. Her father is a retired government officer and her mother is a homemaker.
Undeterred by possible obstacles and prioritising only her career goals, Khadija acquired a Masters of Business Administration (MBA) with a specialisation in supply chain management, for it was this field that, she felt, carried the most potential.
Like most girls, Khadija too had been steered towards pursuing a career as a doctor or a teacher when she was younger, she tells The Express Tribune.
However, when it came for her to decide on her graduate studies, she realised that given her aptitude and the vast potential of the then emerging field, supply chain management would be the best option for her. Fortunately, her family and teachers supported her in this decision.
After completing her studies, Khadija joined a training programme for stowage planning as part of the MTO training at HPP, where she gained employment.
Watch: First Emirati woman car mechanic over the moon after royal recognition
She is currently responsible for planning cargo stowage as per the guidelines provided by the shipping lines as well as training new interns. Khadija and her team supervise the movement of around 40,000 cargo containers a week on average.
Managing data and billing for different business units and inter-departmental coordination are other responsibilities which Khadija fulfills.
Odd one out
Khadija's department employs 36 individuals and is the only woman on the team.
She enjoys her work and is cognisant that it is because of her family's support that she managed to make it this far.
The 26-year-old tells The Express Tribune that she had been frequently discouraged from advancing in this field. But where outsiders would tell her that this career path is not meant for women, her family saw her determination to succeed and supported her wholeheartedly.
She embraced the challenges that appeared before her and capitalised on her perseverance and hardwork. With the support of her bosses and diligent work she was able to win over her team members.
Any discriminatory attitudes she met, she took in stride and remained confident in her abilities to speak.
Working in the ROC meant that she routinely had to interact with a number of people, both in person and virtually. This, Khadija says, not only added to her interpersonal skills, it also enabled her to expand on her knowledge and adapt to new ways of moving about in the world.
Need of the hour
Khadija believes that career counseling is extremely important for youngsters in today's world, where careers are fast-changing and evolving.
The concept of career counseling has been absent in the past decade, she opines, adding that when she was growing up most people saw it as a waste of time and money.
"Even today, students go with the flow and enter any field without bothering to consider whether they will fit in," says Khadija, adding that most of them end up being disappointed with the nature of their jobs because of this.
Not only female students, but all students should be clear about their strengths and limitations when choosing their career path, she says.
A man's world
According to Khadija, women comprise 49.2 per cent of Pakistan's population but only 25 per cent of the workforce.
Though more women are making their way in fields pertaining to logistics, they still make up for a minute percentage of Pakistani individuals employed in this sector, she says, expressing hope for more and more women to join the field.
She says it is important for female students, and their families, to look past social stigmas when choosing their career path. Have faith in your abilities and do not let anyone limit or define your goals, she advises.
"Moreover, all I want to say is to stay positive and do good so the same bounces back."