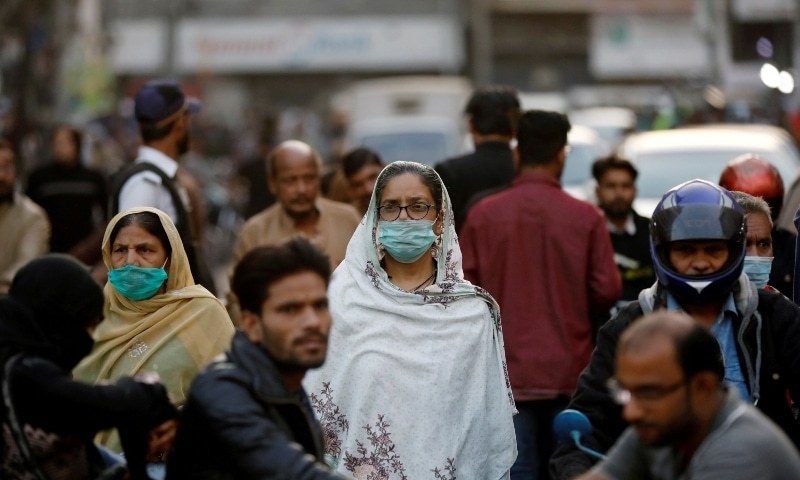 ---
Covid positivity still high in southern districts
Health minister says complete ban on Chand Raat Bazaars, parks and entertainment sites being ensured 
---
LAHORE:
Punjab Health Minister Dr Yasmin Rashid has said that although the province's positivity ratio has shown a declining trend over the past week, it is still over 8 per cent in 26 districts. "Strictly following SOPs during Eidul Fitr holidays is extremely important to stop the spread of the coronavirus disease."
Speaking to the media on Sunday, she stated in the past 24 hours, there were 1,838 positive cases of the virus while 81 people lost their lives.
Specialised Healthcare and Medical Education (SH&ME) Department Special Secretary Silwat Saeed, Consultant Professor Asad Aslam Khan, Punjab Health Services Director General Dr Haroon Jehangir, Project Director Ahmer Khan and DGPR Director Electronic Media Rubina Afzal were present on the occasion.
She further said just over 15,000 tests were performed in the past 24 hours. "The positivity ratio is still on higher side in southern districts. The ratio is 25% in Rajanpur, 23 % in Rahim Yar Khan, 22% in Bhakkar, 20% in Chiniot, 18 % in Chakwal, 17 % in Faisalabad, 16 % in Sargodha, 15 % in Lahore, 14 % in Sahiwal, 14 % in Mianwali, 13 % in Jhang and 12 % in Attock."
Read Third wave hits Punjab's youngest
The provincial health minister added that there had been a noticeable decline in the test to positivity ratio in Punjab due to lockdowns and restrictions. "There has been a decline in hospital admissions as well. In the DHQs and THQs of Punjab, 685 beds are in use while 2,685 beds are reserved for Covid-19 patients."
At the DHQs and THQs, 18 patients were under treatment and 98 ventilators were reserved for the virus patients, she revealed. "Through imposition of smart lockdowns, the movement of thousands of citizens of Punjab has been restricted."
She highlighted, "In Multan, the movement of over 2800 people has been placed under restrictions. Similar restrictions were imposed on 4,500 people in Sargodha, 117,000 people in Faisalabad and more than 31,000 people in Rawalpindi who were residing in virus hotspots."
Overall, in six districts of Punjab, movement of 247,000 people had been placed under restrictions, she said. "The SOPs are being strictly being enforced in Punjab. Next week is extremely important to stop the spread of coronavirus. Pharmacies, medical stores, petrol pumps, tandoor shops, milk shops, food takeaways, home delivery services, and home delivery will be open for 24 hours."
Vaccination centers will remain open except during the first three days of the month of Shawwal, the minister clarified. "There will be a complete ban on Chand Raat Bazaars, dine-in restaurants, marriage halls, parks, entertainment sites, social gatherings, sports and other festivals. Compliance with mask wearing will be ensured."
Also read Punjab tightens Covid restrictions as third wave spirals out of control
Published in The Express Tribune, May 10th, 2021.