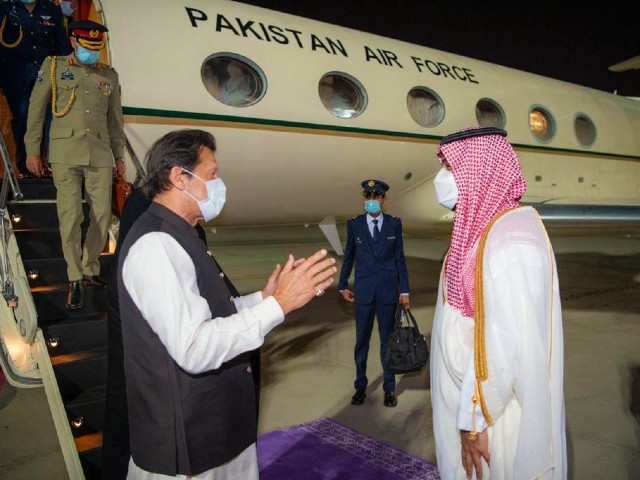 ---
ISLAMABAD:
Saudi Crown Prince Muhammad bin Salman is on a mission to transform the kingdom of Saudi Arabia. He has envisioned the kingdom as a country which will be vibrant, dynamic and diverse.
He wants to build an economy and society which can tackle the challenges of 21st Century. He is striving to diversify the economy and social fabric in the country.
It is not merely a dream as he is taking practical steps to achieve the goal. Saudi Arabia has drawn up a detailed blueprint of policies, actions and indicators with the title of Vision 2030, which will guide the transformation drive in coming years.
The Vision 2030 is an all-inclusive document, which follows principles of sustainable development and caters to future needs. It has been built on eight themes/ pillars which include healthcare, living standards, sustainability of resources, social development, government efficiency, labour market, enabling private sector, tourism and national heritage.
Saudi Arabia has identified diversification of economy as a leading factor to achieve the goal. The government is endeavouring to give a boost to non-oil sectors and exports.
Read: Pakistan, KSA relationship marked by close cooperation in all fields: PM Imran
Climate change is further accelerating the process as oil and other fossil fuel producers are under immense pressure. Thus, efforts will be made to increase the share of non-oil exports from 16% in 2016 to 50% in 2030.
The non-oil revenue will also be enhanced from 163 billion Saudi riyals in 2016 to SAR 1 trillion in 2030. It is a humongous task. It will require gigantic efforts to shift the focus from oil and create new sectors of economy and export.
To materialise the dream, Saudi Arabia has decided to enhance the role of private sector in the national economy. It will be achieved by adopting a multi-pronged policy and strategy.
Firstly, Saudi Arabia will continue to climb the ladder of competitiveness and reach the 10th position till 2030. Secondly, all efforts will be made to improve the Ease of Doing Business (EODB) ranking by taking practical steps.
Some comprehensive efforts will be made to simplify the registration process, improve the provision of utilities and security of investment.
Finally, the kingdom will allow foreign investors to buy property in certain designated areas. It is a landmark initiative as it is happening for the first time there.
Simultaneously, Saudi Arabia will be working to enhance the role of small and medium enterprises (SMEs) in the national economy. The vision has set their target share in the national economy at 35% till 2030.
It will be done by providing funding (20% till 2030) and improving the environment for SMEs. Private sector and SMEs have also been assigned the task of improving the job market and helping the government to bring down the unemployment rate to 7% by 2030. It has been assumed that the improved situation will attract foreign direct investment (FDI) and private sector. It will help to meet the targets of 5.7% FDI and 65% private sector share in the national economy till 2030. The vision also highlights the defence sector as an industry and plans to transform the existing functioning and composition of the industry. It is a well-known fact that Saudi Arabia is one of the leading importers of defence products due to a fragile security situation in the region.
It meets 98% of the requirement by importing defence products and the domestic share is only 2%. It is not a sustainable model, especially in the current fragile global order. Thus, the kingdom envisages that it will transform the existing composition and strive to achieve self-sufficiency in defence products. It has set the target of 50% share of local industry till 2030.
The Vision 2030 equally gives importance to environmental sustainability. The government is determined to protect the environment and follow environment-friendly business principles.
The vision document clearly mentions that apart from other things, it is also our religious duty. Hence, the kingdom will work hard to improve water conservation and combat desertification.
There is no doubt that the Vision 2030 is an excellent document but to achieve the goals, Saudi Arabia will have to go through comprehensive transformation. The first and foremost requirement will be to utilise the human and social capital. For that purpose, special programmes for education, skill development and healthcare will be needed.
Moreover, the government will try to reach the 10th position on the Social Capital Index.
Opportunity for Pakistan
The discussion above underlines the fact that Saudi Arabia will be open for new economic partnerships and talent hunt. It is a good opportunity for Pakistan.
Although Pakistan enjoys excellent brotherly relations, these ties can be further strengthened by adopting a wise policy.
First of all, Pakistan should work to get maximum jobs for its nationals in Saudi Arabia under the Vision 2030 by building a strong base of skilled labour force. Unskilled labour will have very limited opportunities in the new economy of Saudi Arabia.
Second, Pakistan can also join hands to improve the human and social capital of Saudi Arabia through the provision of quality educationists and medical staff.
Third, environmental cooperation has emerged as a new area. Saudi Arabia is willing to benefit from Pakistan's experience in this regard. Pakistan should work with Saudi Arabia on concrete proposals in different areas including water conservation, climate smart cities, etc.
Fourth, the kingdom's food market is another area, where Pakistan can make a huge difference. Saudi Arabia meets its demand by importing 80% of food. It presents a window of opportunity, especially for halal meat, dairy products, fruits and vegetables. Pakistan can also attract investment from Saudi Arabia in agriculture by adopting a programme of investment in food.
Read more: PM Imran's visit to KSA highly productive: FM Qureshi
Fifth, renewed focus and emphasis on entertainment and sport events can also open fresh avenues for Pakistan.
Lastly, defence is an area where Islamabad and Riyadh can create a new history of cooperation. Both countries already have deep, objective-oriented and trustworthy defence relationship.
The goal of 50% self-sufficiency offers an opportunity to further strengthen this relationship.
Pakistan can also use its experience to help Saudi Arabia to build local industry and meet its needs on a sustainable basis.
Moreover, both countries can also work jointly in the field of research and development to climb the ladder of advancement in the defence sector. It will be a win-win proposition for both.
Concluding, Pakistan can benefit hugely from these opportunities by devising a strategic framework of cooperation. First step would be to establish a joint working group to facilitate cooperation under the Vision 2030.
Second, sector-specific sub-groups can be formed to further streamline work. Pakistan will have to avoid sporadic efforts or haphazard interventions because they will not be of any use, rather they will hurt the spirit of cooperation. CPEC and its long-term plan can provide guidance to develop a strategic framework of cooperation.
The writer is a Political Economist
Published in The Express Tribune, May 10th, 2021.
Like Business on Facebook, follow @TribuneBiz on Twitter to stay informed and join in the conversation.