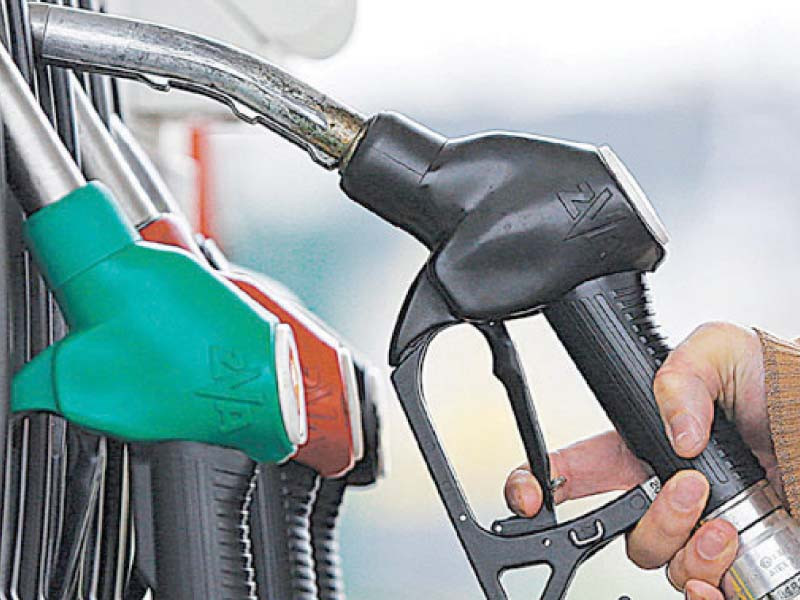 ---
KARACHI:
A Pakistan Tehreek-e-Insaf (PTI) minister recently drew a comparison of Pakistan with eight selected regional and international countries to establish a claim that petrol is available at the cheapest price of $0.708 per litre in retail to its masses.
Experts, however, rejected the government's claim. Governments across the world set petrol price keeping in view a number of factors in their respective economies including people's purchasing power and per capita income.
"As per the standard practice in the world, the petrol price related to GDP (gross domestic product) per capita income stands expensive in Pakistan," an expert, on the condition of anonymity, told The Express Tribune. Taking to his Twitter handle, Federal Minister for Maritime Affairs Ali Haider Zaidi on Friday shared a picture that showed Pakistan sold petrol at the cheapest price compared to Indonesia, Sri Lanka, Turkey, US, Bhutan, Bangladesh, China and India.
The name of the countries in comparison were written in ascending order according to their petrol prices in US dollar value with Indonesia selling petrol at the cheapest price (after Pakistan) at $0.737 per litre and India selling the fuel at the most expensive price at $1.255 per litre amongst as on May 6, 2021.
"Statisticstimes.com has ranked Pakistan at 125th position in its index for selling petrol at expensive price (petrol price related to GDP per capita income)," the expert said, adding that the country's position suggests there are 124 other countries which were selling petrol at a cheaper price than Pakistan among 167 countries in the index.
The average price of gasoline around the world is $1.08 per litre. As a general rule, richer countries have higher prices while poorer countries and the countries that produce and export oil have significantly lower prices. The differences in prices across countries are mainly due to the various taxes and subsidies for gasoline. All countries have access to the same petroleum prices of international markets but then decide to impose different taxes, according to the website. "Petrol (and other petroleum products) is a tax commodity, which means that the governments collect heavy taxes from sale of petroleum products" the expert added.
READ Fuel stocks drop to lowest levels
Governments impose taxes on the petroleum products keeping in view the people's purchasing power and average income of people in the country. "The existing petrol price at $0.708 per litre in Pakistan is expensive considering the per capita income has reduced to $1,260 from the past over two-three years and that people's purchasing power has eroded due to the ever-increasing inflation reading in the country, which shot to an 11-month high at 11.1% in March 2021," he said.
Considering Zaidi's claim is true then there are 30 other countries which were selling petrol at a lower price in dollar-value than the one in Pakistan."Syria, the war-torn country is selling petrol at $0.65 per litre."
Pak-Kuwait Investment Company Head of Research Samiullah Tariq said governments impose taxes on petrol considering their fiscal position. Norway is a big oil producing and exporting country. However, it sells petrol at a price which is eight-times expensive than in Pakistan.
Norway generates huge taxes on sale of petroleum products and invests the taxed income in stock markets all over the world to generate wealth for their future generations. The country has established a fund based on tax collections from petroleum products. The fund is called Future Generation Fund, which it invests all over the world, he said.
The breakdown of the petrol price suggests that the ex-refinery price of petrol stood at Rs75.83 on May 1, 2021. It was being sold at Rs108.56 per litre in retail after imposition of petroleum development level of Rs6.39 per litre, IFEM at Rs3.69, oil marketing companies' margins at Rs2.97, dealer margin at Rs3.91 and sales tax at 17% (or Rs15.77) per litre, according to AHL Research.
The government has kept the petrol price unchanged for the first 15 days of May despite an increase in ex-refinery price by Rs5 per litre. The government maintained the price through reducing petroleum development levy (PDL) to Rs6.39 per litre on May 1 compared to Rs11.23 on April 16. The PDL stood at Rs22.9 per litre in January 2021. The government has continued to reduce collection of levy to keep petrol prices low in the country.
Published in The Express Tribune, May 9th, 2021.
Like Business on Facebook, follow @TribuneBiz on Twitter to stay informed and join in the conversation.