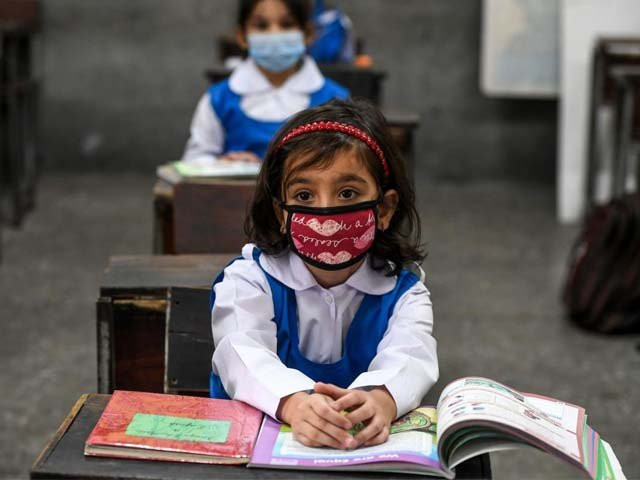 ---
NCOC extends closure of educational institutions till May 23
'Danger is higher than ever and knocking at our doors,' warns NCOC chief Asad Umar
---
National Command and Operation Centre (NCOC) – Pakistan's nerve centre to control the Covid-19 pandemic – has decided to extend the closure of all educational institutions till May 23.
The decision was taken at the NCOC meeting held in Islamabad on Saturday.
According to a statement, shared through the NCOC's official Twitter handle, the decision has been taken in view of ongoing trends of disease. However, a review will be carried out in the NCOC's next meeting, scheduled for May 18.
"In Today's NCOC session, it is decided that in view of ongoing disease trends, education institutes earlier closed till 17th May will continue to remain closed till 23rd May 21. Review will be carried out on 18th May 21," the tweet stated.
'Measures necessitated by extremely dangerous situation'
Explaining the reason behind the recent restrictions put into effect by the Centre, Federal Minister for Planning, Development and Special Initiatives Asad Umar, who is also the chief of the NCOC, said that the government realises restrictions put into place from today till May 16 are going to cause inconvenience. However, he added that they have been necessitated by the "extremely dangerous situation" created in the region with the spread of virulent mutations of the virus.
"The unfortunate catastrophe unfolding in India has grabbed global headlines. Yesterday there were more than 4 lakh (0.4 million) cases in India with 4,194 deaths. Hospital systems have been overwhelmed and oxygen supply run [running] out in many places," Umar said in a series of tweets.
The NCOC chief said that Iran saw a sharp increase in cases simultaneously with active cases growing two and a half fold and daily deaths exceeding 400 in a day in a country with a population of less than half of Pakistan.
Read more: NCOC teams to enforce Covid restrictions during Eid holidays
"Even a small country like Nepal saw an exponential rise in cases going up above 7,000 daily. Deaths also rose sharply. You can see the entire region is exploding with cases & deaths, in the latest Covid wave. We have Alhamdulillah been spared the worst by timely decisions," he maintained.
The need for caution is clear, Umar said, adding that the "danger is higher than ever and knocking at our doors."
"Need the country to unite in response and achieve once again what we achieved in the first wave, for which we received global praise. Inshallah, we will do it again, together," NCOC chief concluded.
The NCOC late last month announced a new set of restrictions, including a blanket ban on tourism and inter-provincial transport, in an attempt to contain a further rise in already mounting coronavirus cases under the "Stay Home, Stay Safe" strategy from May 8 to May 16 aimed at controlling the movement of people.
The restrictions also include the closure of all tourist resorts including beaches in Karachi, hotels, restaurants, shopping centres, parks and other public places from May 8 to 16.
Travel nodes leading to the tourist destinations, particularly the scenic valleys of Murree, Swat and northern Gilgit-Baltistan (G-B) region, which attract hundreds of thousands of tourists from across the country during Eid holidays, will also remain closed during the said period.
There will be a complete ban on inter-provincial and inter-city transport during the Eid holidays, except for the residents of G-B and Azad Jammu and Kashmir (AJK), who will be allowed to travel to their hometowns.
However, essential services including pharmacies, grocery stores, petrol pumps and others are exempted from such restrictions.
The monitoring teams at federal, provincial and district levels will enforce the NCOC measures to contain the spread of coronavirus.