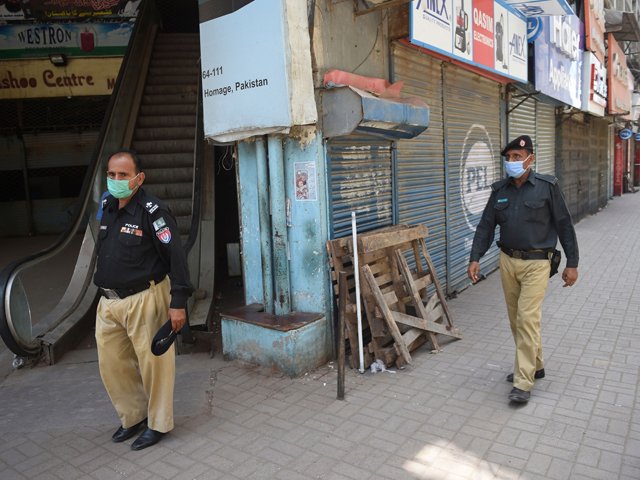 ---
ISLAMABAD:
The National Command and Operation Centre (NCOC) – Pakistan's nerve centre to control the Covid-19 pandemic – has decided to form monitoring teams to ensure implementation of restrictions during nine-day lockdown starting from May 8 till 16, which also include Eid holidays.
The decision was taken in a meeting on Tuesday, which was chaired by Minister for Planning and Development Asad Umar with National Coordinator NCOC Lt Gen Hamooduz Zaman Khan.
Prime Minister Special Assistant on Health Dr Faisal Sultan also attended the meeting.
The NCOC earlier this month announced a new set of restrictions, including a blanket ban on tourism and inter-provincial transport, in an attempt to contain a further rise in already mounting coronavirus cases under the "Stay Home, Stay Safe" strategy from May 8 to May 16 aimed at controlling the movement of people.
The restrictions also include closure of all tourist resorts including beaches in Karachi, hotels, restaurants, shopping centres, parks and other public places from May 8 to 16.
Travel nodes leading to the tourist destinations, particularly the scenic valleys of Murree, Swat and northern Gilgit-Baltistan (G-B) region, which attract hundreds of thousands of tourists from across the country during Eid holidays, will also remain closed during the said period.
There will be a complete ban on inter-provincial and inter-city transport during the Eid holidays, except for the residents of G-B and Azad Jammu and Kashmir (AJK), who will be allowed to travel to their hometowns.
However, essential services including pharmacies, grocery stores, petrol pumps and others are exempted from such restrictions.
The monitoring teams at federal, provincial and district levels will enforce the NCOC measures to contain the spread of coronavirus.