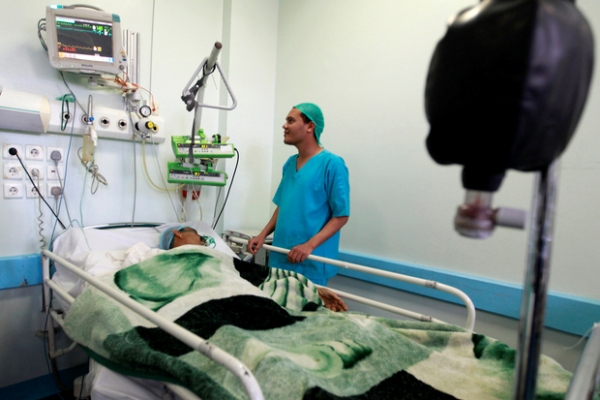 ---
PESHAWAR:
When news of acute oxygen shortages started pouring in from the neighbouring country, the Islamic Republic too had to hit the gas on its production capacity. With cases exploding during the pandemic's third-wave, it was projected that Pakistan could also be experiencing the same catastrophic fate as India, if conditions did not improve by Ramazan's end.
In the northwestern province of Khyber Pakhtunkhwa, which houses only two oxygen plants, the influx of coronavirus cases meant that the demand was suddenly much higher than the entire region's production capacity. Case numbers were propelling in every hospital, attendants could be seen running from pillar to post for oxygen cylinders and the worst of K-P's nightmares appeared to looming on the cusp.
"A man recently walked in right through our facility's front door and begged for an oxygen cylinder," recalled Khalid Afridi, who runs an oxygen production facility in the heart of Peshawar. "He looked like he was in dire need. Probably had a loved one gasping for air on a hospital bed somewhere. So we gave it to him, we don't charge those in need," he added.
Where Afridi's kind gestures may have afforded many a new lease on life, nothing could mask the fact that production units like Afridi's have been working round the clock and yet struggling to meet the province's oxygen deficit. Per local accounts, total oxygen production across K-P is some 1,500m3/hour, out of which over 120m3/h is produced by Afridi's unit while around 1400m3/h is produced at another facility near Hattar Industrial Estate.
READ Mobile vaccination vans hit K-P streets
"We are producing 120m3/hour of oxygen right now but even if we could bump up our capacity to 300m3/h, we would still be falling short—the demand is much higher than usual, specifically for hospitals," informed Khalid Afridi. Speaking further, the plant owner stated that despite the increased demand, price for oxygen however has remained in logical bounds, at least on the factories' end.
"Currently a cylinder costs Rs800 but since we supply the same to the contractors, often times the market rates are up to them and what margin of profit do they leave for themselves. Yet I am sure no underprivileged person is being denied oxygen for home treatment," he shared.
Following the surge of Covid-19 cases in K-P, the province's eight major hospitals are said to have immediately reported an 83 per cent increase in demand for oxygen. In spite of which, government officials associated with healthcare provision maintain that the situation is still well under control, with enough back-up for tougher times.
COMMENTS
Comments are moderated and generally will be posted if they are on-topic and not abusive.
For more information, please see our Comments FAQ