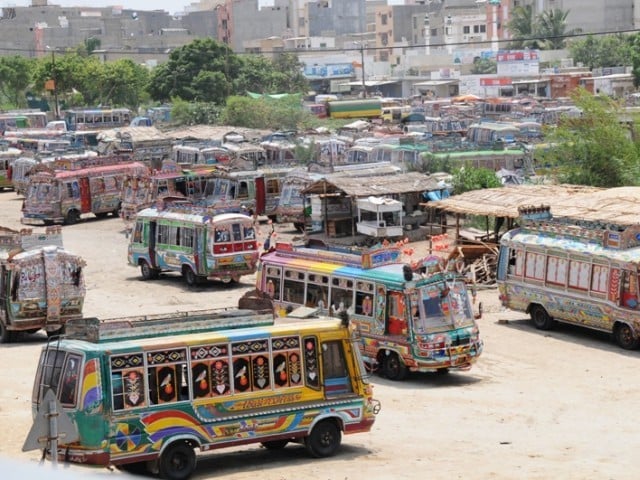 ---
RAWALPINDI:
Eid-ul-Fitr has brought profiteering to the bus stands as transporters have started fleecing passengers wanting to head home to be with their loved ones on the festive occasion. In this melee, there is almost no implementation of Standard Operating Procedures (SOPs) in the buses.
Since people are wanting to leave early because of the week-long Eid holidays starting May 8 (today), the astronomical hike in fares has left passengers in shock. They have also condemned the overloading and improper seating arrangements in the vehicles. Those wanting to return home have to stand for hours in queues to obtain overpriced tickets and put up with pathetic service.
All bus stands in Rawalpindi, including the Piwudhai bus terminal, the Faizabad bus terminal, the Sawan Bus stand and the Chungi 26 bus stand, were crowded. Muhammad Yaseen, travelling to Faisalabad from Rawalpindi, said he wanted to reach home before the lockdown during the Eid holidays. He said a month earlier the fare of the nonair-conditioned bus between Faisalabad and Rawalpindi was Rs1,200 which had been doubled by transporters.
READ Pindi goes under lockdown today
Yaseen said they were charging Rs2,400 for a nonAC bus and Rs3,200 for an AC bus. He added transporters were taking advantage of people wanting to head home and fleecing them. Another passenger Naveed Shams, who was going to Karachi, also criticised the increase in fares. He told The Express Tribune that the fare between Islamabad and Karachi has been jacked up to Rs9,000 from Rs5,000.
He said the district officials were completely absent also complaining that passengers were not getting a seat even after paying heavy fares. He said transporters had installed additional seats as a makeshift arrangement to ferry as many passengers as they could in one journey. He said several transporters are also utilising the roofs of vehicles for this purpose.