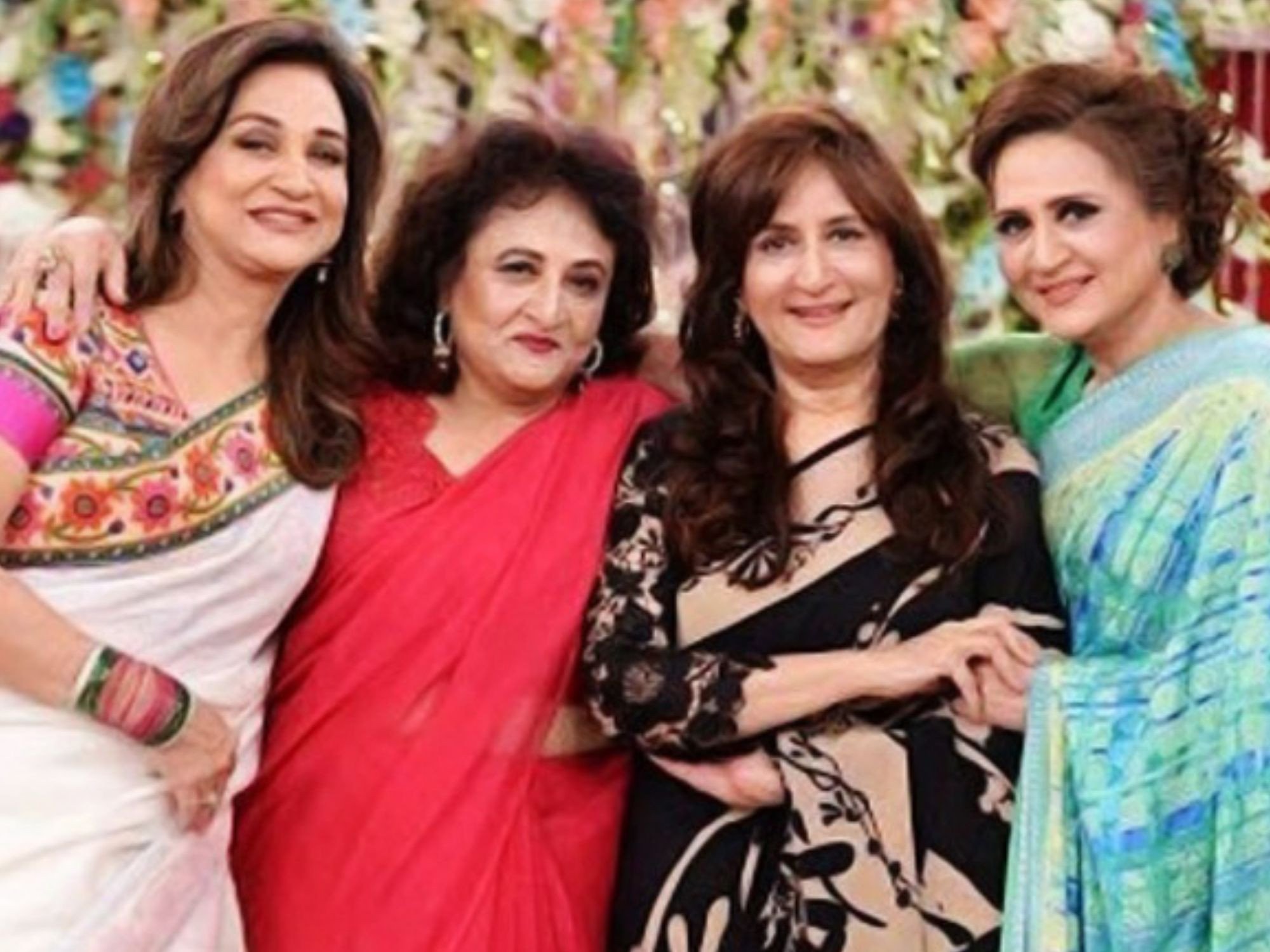 ---
Veteran actor Sumbul Shahid passed away on Thursday after a prolonged battle with Covid-19. She had been receiving treatment at Lahore's Combined Military Hospital (CMH) since last month. Her condition deteriorated on April 22, after which she was placed on a ventilator. The actor's sister Bushra Ansari had previously revealed that both Shahid and their mother Mahmooda Bashir were suffering at the hands of the deadly contagion. Ansari mentioned how it was incredibly difficult for her to see her family "miserable", adding that she was continuously praying for God to shower His mercy on them.
Shahid gave several memorable performances throughout her career, being part of projects such as Taakay ki Ayegi Baraat, Nand and Malika Aliya. As news of her demise took the internet by storm, tributes poured in from members of the film and television fraternity. Ansari took to Instagram to share a picture with her sisters from January this year, writing how she did not expect Shahid's previous birthday celebration to be her last.
Actor Shahroz Sabzwari, who had worked with Shahid in the past, shared a picture of himself with the late actor on his Instagram story. He penned, "You were not just a mother to me on the screen but like a mother to me every day on our sets as well. My dearest Aunt Pappo, may your soul rest in peace and may Allah Pak grant you a beautiful place in heaven." Hira Mani also uploaded a photo of Shahid on the photo-sharing platform, sharing that Shahid will continue to live in everyone's hearts.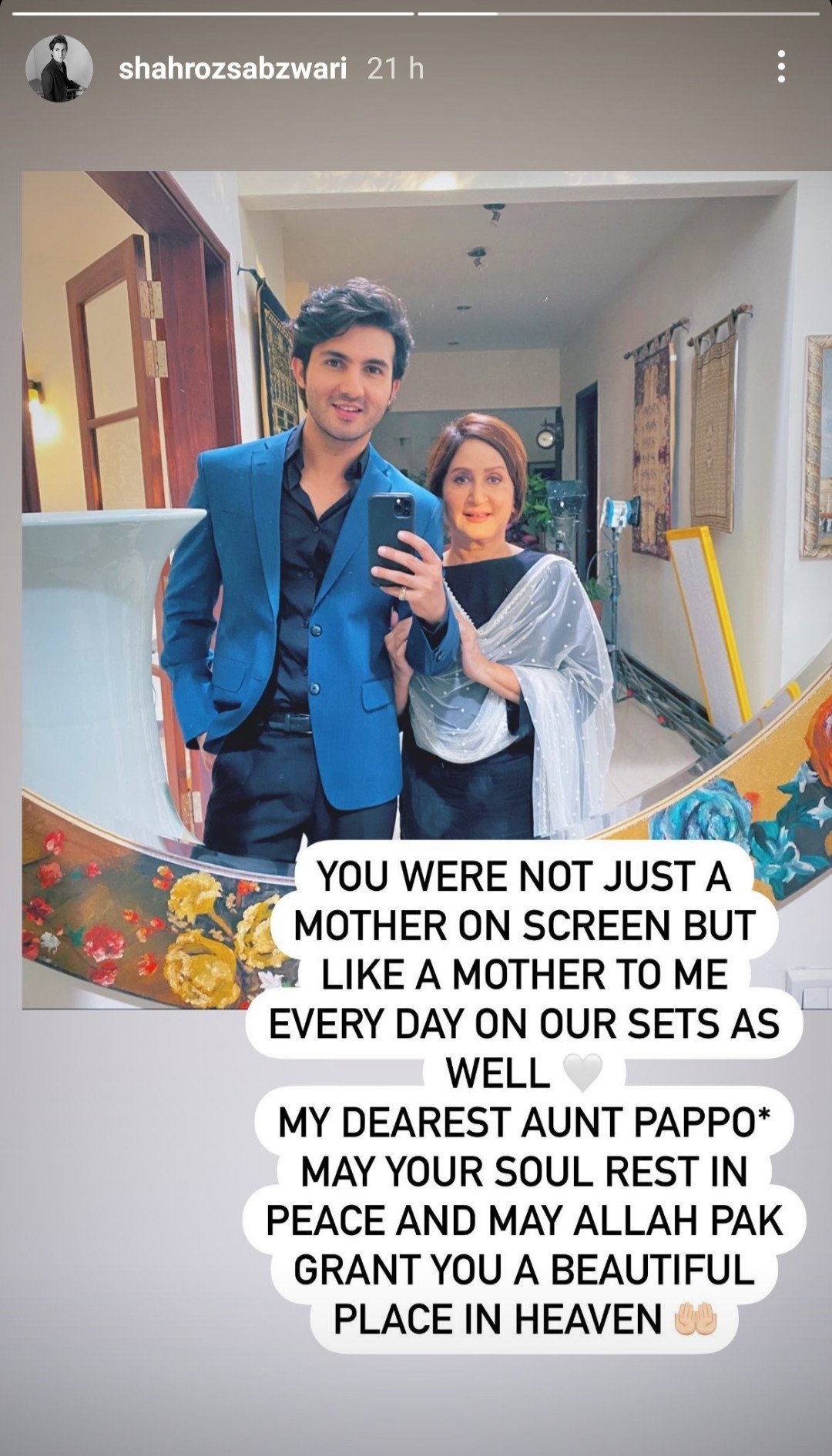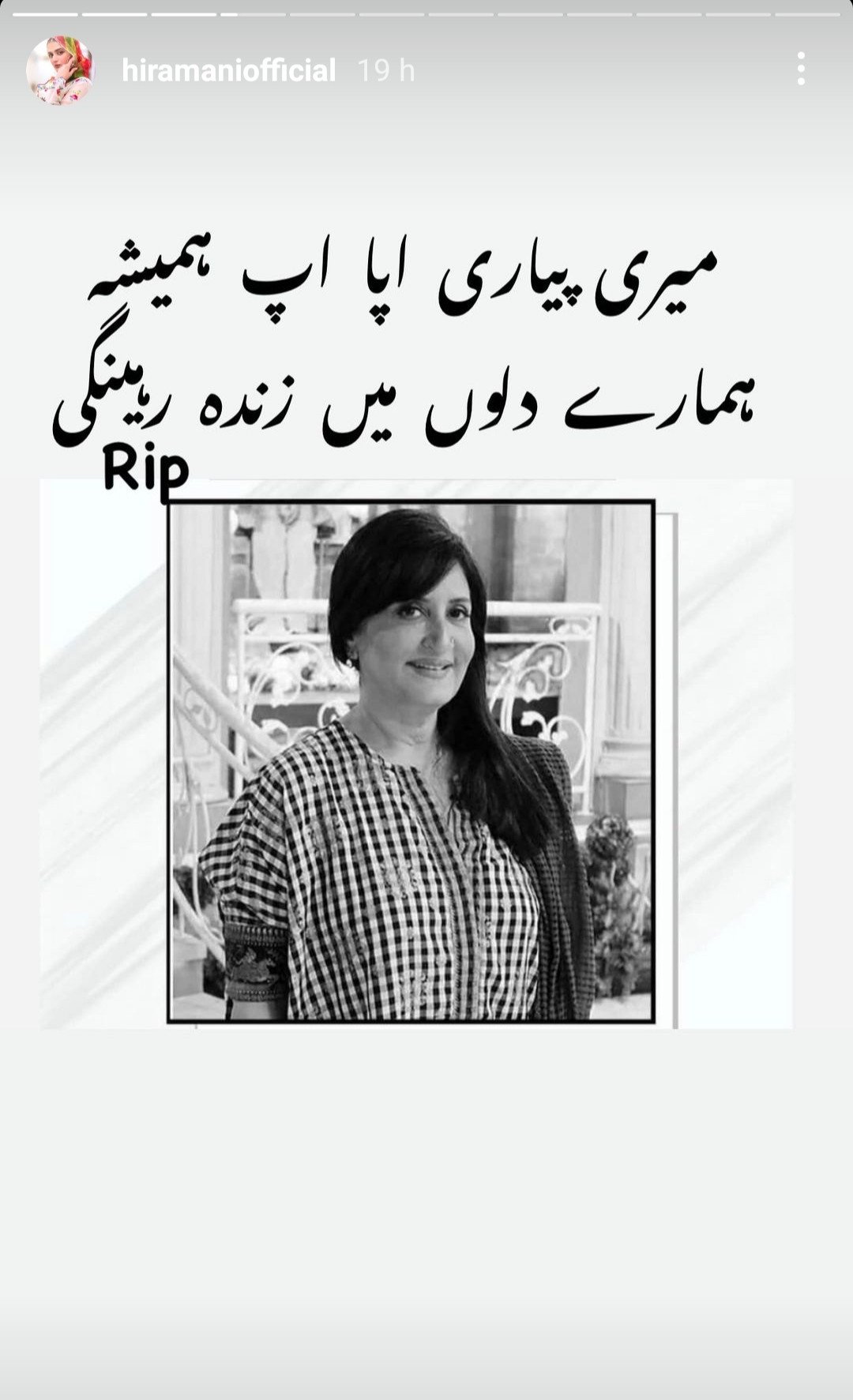 ​​​​​Ayesha Omar posted a touching tribute on her Instagram handle, as she spoke about Shahid's son who passed away in a paragliding incident one year ago in Chitral. She wrote, "Inna lillahe wainna ilehay rajaoon. This is so so tragic. Sumbul Apa was a bundle of light and energy and lit up every space she was in. She was like a mother to so many of us. She has been reunited with her darling son, Shiraz, who we lovingly called Sheery, and lost a few years ago to the mountains. May Allah bless both their souls and grant them a place in Jannat."
Actor Zara Noor Abbas shared a video of the deceased artist singing. She captioned the post, "My nightingale. Nothing will ever be the same. Rest in peace Pappo. You have left us all broken." Faysal Qureshi took to the micro-blogging site Twitter to convey his condolences. He tweeted, "Finding myself at a loss of words after hearing about Sumbul Shahid. May Allah grant her the highest place on Jannah. Sending my duas and love for the family. Allah give us all strength to deal with this magnanimous loss."
Finding myself at a loss of words after hearing about Sumbul Shahid. May Allah grant her the highest place in Jannah. Sending my duas and love for the family. Allah give us all strength to deal with this magnanimous loss. إِنَّا لِلّهِ وَإِنَّـا إِلَيْهِ رَاجِعونَ pic.twitter.com/akTQCsChpU

— Faysal Quraishi (@faysalquraishi) May 6, 2021
​​​​​​Superstar actor Osman Khalid Butt wrote on Instagram, "Inna lillahi wa inna illayihi raji'un. Sumbul Shahid ji has passed away. May Allah grant her the highest place in Jannah and give her loved ones the strength to cope with this loss. My heart goes out to her family."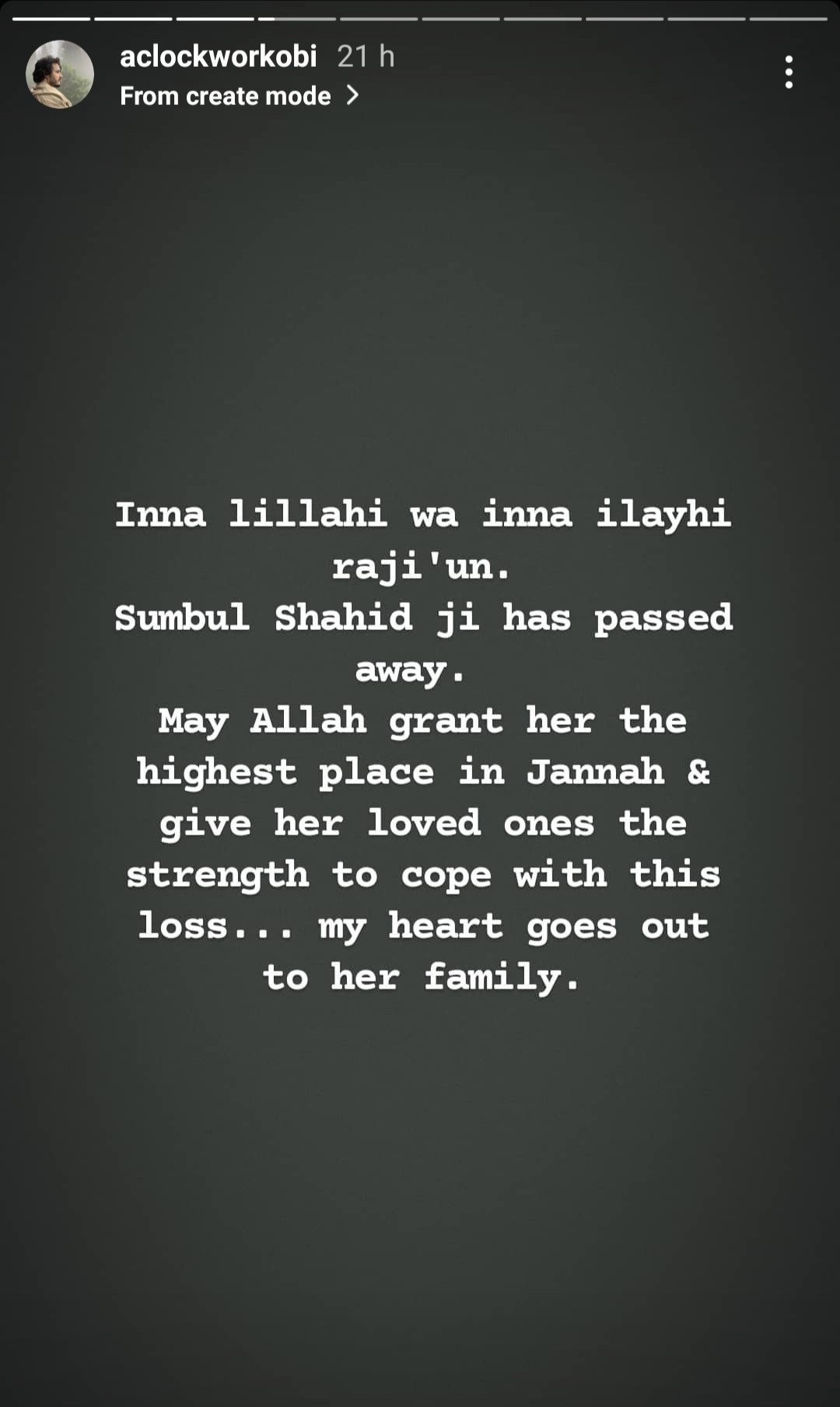 Mansha Pasha tweeted, "Many condolences to Bushra Apa, Asma Apa, Zara noor and the entire family on the passing of Sumbul Shahid. May God rest her soul in peace. Ameen." Her husband and activist Jibran Nasir also condoled to Shahid's loved ones, tweeting "Inna Lillahi Wa Inna Ilahi rajioun. May God bless her soul and grant her family the courage and patience to bear this loss."
Many condolences to Bushra Apa, Asma Apa, Zara noor and the entire family on the passing of Sumbul Shahid
May God rest her soul in peace. Ameen

— Mansha Pasha (@manshapasha) May 6, 2021


​​​​​
Inna Lillahi Wa Inna Ilahi Rajioun. May God bless her soul and grant her family the courage and patience to bear this loss. https://t.co/agQGb6knHW

— M. Jibran Nasir (@MJibranNasir) May 6, 2021
TV host and actor Fahad Mustafa put up a picture of Shahid alongside a caption that read, "Condolences to the family of late Apa Sumbul Shahid Allah darjaat bulund kare (may God increase her rank)". Honouring Shahid's legacy, starlet Armeena Khan wrote, "Rest in peace Sumbul Api. I had the pleasure of working with you in my very first project, you were such a happy soul. My condolences to her whole family RIP."