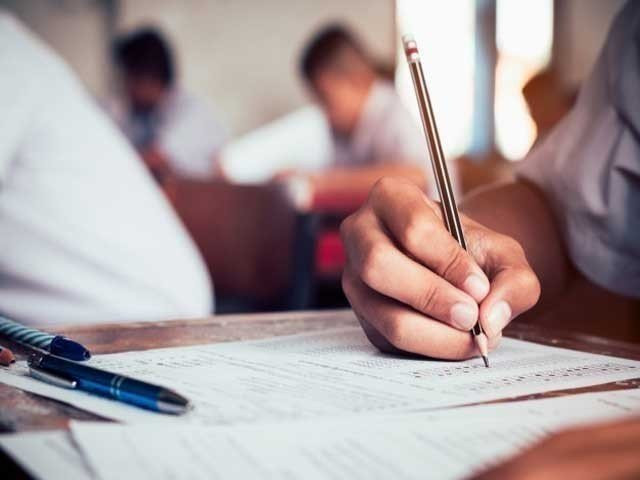 ---
Proposal to promote 9th, 11th grade students rejected
IPEMC agrees to conduct examinations in two phases due to the prevailing Covid-19 situation
---
KARACHI:
The Inter-Provincial Education Ministers Committee (IPEMC) on Wednesday rejected the proposal to promote 9th and 11th grade students and to conduct examinations of only optional subjects for class 10th and 12th. However, it was agreed in principle to conduct the examinations in two phases due to the prevailing Covid-19 situation in the country.
The decision was taken at a virtual meeting of IPEMC, chaired by Federal Minister for Education Shafqat Mehmood and attended by Sindh and Punjab education ministers Saeed Ghani and Murad Das as well as other ministers and officials.
As per the decision, examinations of grade 10th and 12th will be taken in July in the first phase whereas, in the second phase, papers of 9th and 11th grade will be conducted in August or September.
Read more: CAIE examination policy leaves much to be desired
Taking to Twitter, the education minister also clarified that grade 9th and 11th exams will take place according to the time table of the respective boards. "No truth in rumours that they will not be held," he wrote on his official handle.
Class 9 and 11 exams will take place according to the time table of the respective boards. No truth in rumours that they will not be held

— Shafqat Mahmood (@Shafqat_Mahmood) May 5, 2021
A source from Sindh, who attended the meeting, told The Express Tribune that two proposals of the Inter Boards Committee of Chairmen (IBCC) regarding the annual examinations of class X and XII were discussed at the meeting.
"The first proposal was to promote 9th and 11th graders to the next classes without examinations in view of the current dire situation of Covid-19 but the education ministers present at the meeting rejected the proposal," he added.
He said that there was no scope for promotion policy and students would have to go through the examination process in any case, after which the second proposal put forward by IBCC was agreed upon following deliberations.
Also read: Students can defer their May/June Cambridge exams to Oct/Nov: Shafqat Mahmood
The examinations will be conducted in two phases to keep the number of students low and since universities will begin enrolment in September, therefore, in the first phase, the examinations of the 10th and 12th grades will be conducted in July.
However, the source added, these students will also give papers of all subjects, including not only optional but also compulsory subjects.
Similarly, in the second phase, examinations for 9th and 11th class students will be held as per schedule.
It was also decided at the meeting that a final decision on the matter would be taken in the next few days after further consultation so that the students do not suffer from further mental confusion.