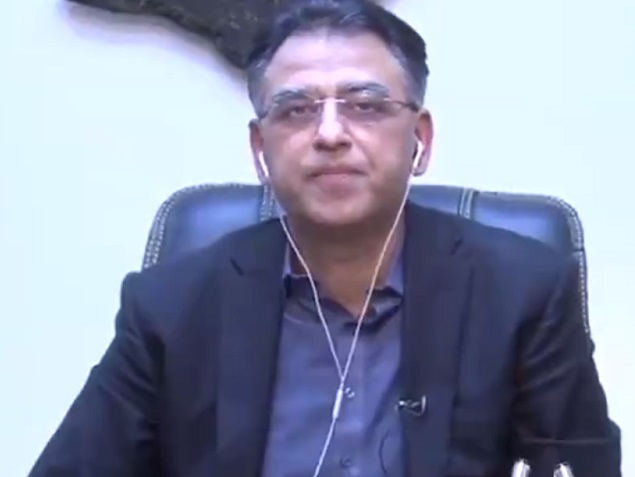 ---
ISLAMABAD:
National Command Operation Centre (NCOC) chief Asad Umar informed on Wednesday that the total number of single-day Covid-19 vaccinations had exceeded 200,000.
In a tweet, the federal minister further stated that the total number of people to have registered for the vaccine had also crossed five million.
The minister encouraged those over the age of 40 to register early for their jab. reminding that safety measures should still be followed to prevent the spread of Covid-19.
الحمد للہ ایک دن میں ویکسین لگنے کی تعداد کل 2 لاکھ سے تجاوز کر گئی. لوگوں کے ریجسٹر کرنے کے رفتار میں بھی اضافہ ہوا ہے اور اب تک رجسٹر کرنے والوں کی تعداد 50 لاکھ سے تجاوز کر گئی ہے. اگر 40 سال یا اس سے زیادہ عمر ہے تو جلد رجسٹر کریں. اور ساتھ میں حفاظتی اقدامات جاری رکھیں

— Asad Umar (@Asad_Umar) May 5, 2021
Read Pakistan to receive 19m Covid vaccine doses by June: Dr Faisal
The NCOC, in a decision taken during a meeting a day ago, decided to form monitoring teams to ensure implementation of restrictions during the nine-day Eid lockdown from May 8 till 16.
Earlier this month, the NCOC also announced a new set of restrictions, including a blanket ban on tourism and inter-provincial transport, in an attempt to contain a further rise in already mounting coronavirus cases under the "Stay Home, Stay Safe" strategy from May 8 to May 16 aimed at controlling the movement of people.