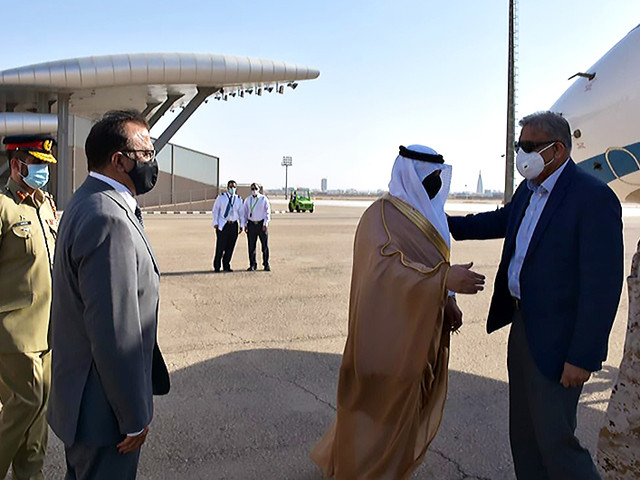 ---
ISLAMABAD:
Chief of Army Staff (COAS) General Qamar Javed Bajwa arrived in Riyadh on Tuesday ahead of the crucial trip by Prime Minister Imran Khan to Saudi Arabia later this week.
The army chief was received by Pakistan's recently-appointed Ambassador to Saudi Arabia Lt-Gen (retd) Bilal Akbar and Saudi military officials. He will meet Saudi civil and military leadership in what seems to be part of the preparation of the prime minister's scheduled to take place on May 7.
The visit of army chief and upcoming trip by the premier is seen as significant as these developments suggest a thaw in ties between the two countries.
The resumption of high level visits comes against the backdrop of quiet efforts by two sides to remove hiccup in their ties. The hectic behind the scene efforts finally led to a telephonic conversation between Prime Minister Imran and Saudi Crown Prince Muhammad bin Salman in March. This was the first contact between the two leaders in 15 months.
Prior to the telephonic conversation, foreign ministers of the two countries also spoke to lay the ground for the prime minister's visit.
Read more: PM Imran set to visit Saudi Arabia next month
Pakistan and Saudi Arabia have enjoyed longstanding strategic relationship, which in recent years met with certain road blocks. The first real test of their ties came in 2015 when Pakistan refused to send troops to join the Saudi led military campaign in Yemen. The relationship returned to some normalcy after Pakistan joined the Saudi led Islamic military alliance against terrorism and sent former army chief General (retd) Raheel Sharif to attend the group.
When Prime Minister Imran took charge in August 2018, Saudi Arabia extended $6 billion financial package to Pakistan to shore up its depleting foreign reserves.
However, ties between the two countries suffered another blow after Pakistan first decided to attend a conference of Saudi Arabia's rivals in Kaula Lampur. Islamabad had to withdraw from the summit after Riyadh warned of serious consequences.
Pakistan skipped the Kaula Lampur summit after Saudi Arabia assured that it would convene the OIC meeting on Kashmir. However, that proposal never saw light at the end of tunnel, compelling Foreign Minister Qureshi to publically criticise Saudi Arabia.
The relationship became so tense that Pakistan had to return $3 billion to Saudi Arabia. It was rare that Saudi Arabia asked for the return of loan as on previous occasions Riyadh had either rolled over the loan or converted into grant.
Also read: PM Imran welcomes Saudi Arabia peace initiative with Iran
But the change of government in Washington appears to have also led to rethink in the Saudi strategy.
The Biden administration has not only withdrawn US support to the Yemen war but also said Washington would not turn a blind eye towards the alleged human rights abuses in Saudi Arabia.
The new US government's intention to revive the Iran nuclear deal also pushed Saudi Arabia to revisit its strategy.
Against the backdrop of these developments, Saudi Crown Prince MBS in an interview said his country wanted to have "good and special" relationship with Iran. Pakistan immediately welcomed the statement by the de facto Saudi ruler.
Officials said Pakistan would unlikely see financial support from Saudi Arabia for the balance of payment issue. Instead the prime minister's visit would focus on project financing and investment, they added.
COMMENTS
Comments are moderated and generally will be posted if they are on-topic and not abusive.
For more information, please see our Comments FAQ