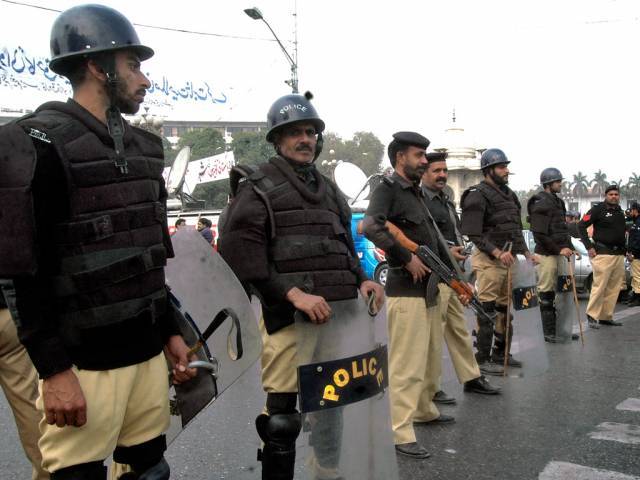 ---
LAHORE:
Punjab Police is ill-prepared to deal with agitation including violent protests and riots in major cities of the province. The force needs capacity building in dealing with law and order situation that too without resorting to the use of force.
In a recent fiasco in Lahore and other cities, a banned party held violent protests which led to agitation and gridlocks lasting for a few days. The riots also led to deaths and injuries on both sides.
Section 4 of Police Order 2002, which describes the duties of police, reads, "It shall be duty of every police officer to protect life, property and liberty of citizens, preserve and promote public peace, prevent the commission of offences and public nuisance, keep order and prevent obstruction on public roads and in the public streets and thoroughfares at fairs and all other places of public resort and in the neighborhood of and at the places of public worship."
It also demonstrates duty of a police officer to take charge of rioters at large to prevent them from causing harm to themselves or other members of the public and their property among other issues.
Read: Netizens heap scorn on Punjab Police
The magnitude of agitations at majority of the points was very low. A few police reports suggested that it was less than two dozen protestors sans few flashpoints where their strength was in hundreds and the protestors were blocking roads and staging sit-ins.
When asked by the government, police resorted to blatant use of force to clear roads from protestors.
This is where the problem and gaps lies in Punjab Police. The police department knows only one thing, how to resort to using force whether it is operations, investigations or dealing with agitation like the recent Lahore riots.
The professional expertise of police would have resulted in a much better outcome when dealing with the situation.
Punjab's citizens are familiar with such intense situation as every few years such agitations are seen. Historically, Punjab Police, since the colonial era, had known only this means; use of force including use of tear gas shelling, baton-charge, mass arrests and, when necessary, firing to disperse the mob.
After the 2014 Model Town incident, Punjab Police's top brass had started finding other means, including more skilled and professional ways, to deal with such crisis. The 2014 Model Town tragedy had deeply impacted the morale of police as well as tainted its image.
This is a time when a professional squad such as Anti-Riots Force (ARF) was being developed especially with the efforts of then DIG Operations Haider Ashraf. Master trainers for building the squad were sent to Turkey for capacity building.
Read more: Punjab Police launch app to monitor FIR registration
Modern equipment was acquired for launching the ARF. Besides this, training such as preparing the ARF members to keep and calm even when being instigated by mobs, was also imparted.
They were taught maximum restraint and least use of violence to deal with protestors. The squad was replicated in few other districts of Punjab.
However, like all the other projects in Punjab, it was also not carried forward and was stalled as no other incident like the Model Town tragedy happened in all these years.
The recent case of Lahore riots once against demands attention of police's top brass to invest heavily in the professional aspect of policing.
The blatant use of force such as that done in the past does not prove effective when dealing with violent protests. Published in The Express Tribune, May 3rd, 2021.
COMMENTS
Comments are moderated and generally will be posted if they are on-topic and not abusive.
For more information, please see our Comments FAQ