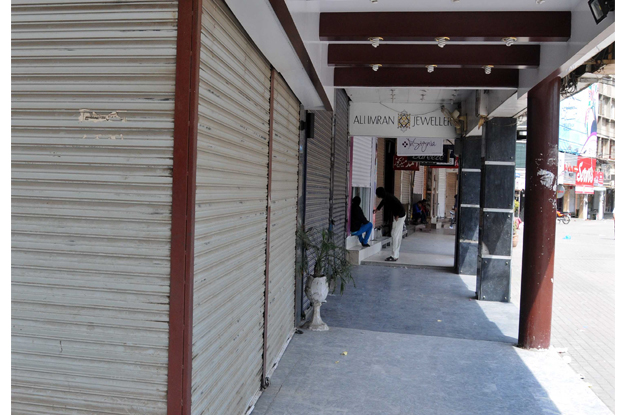 ---
PESHAWAR:
On the one hand the Covid-19 spread is alarmingly high in the Khyber-Pakhtunkhwa (K-P) and on the other local traders associations are up in arms against the lockdown decision made by the provincial government.
On Saturday the Traders Association Khyber-Pakhtunkhwa once again rejected the lockdown notification issued by the district administration and demanded of the government to withdraw it immediately. The president of the association Malik Meher Ilahi blamed that they had been assured that the lockdown will only be imposed on tourism sector and no lockdown will be implemented without prior consultation with the traders' bodies in the province.
He said that by decreasing the working hours in the markets government herself was creating overcrowding which could increase the spread of the infections.
Due to the non-cooperation of general public and traders alike the Covid-19 related Standard Operating Procedures (SOP) are largely ignored across the city where people plunge in large numbers without wearing masks and in the afternoon and the authorities could not check these violations due to its lack of manpower.
READ BRT service to be closed on weekends
"Despite all the appeals people are still coming to the markets in large numbers for eid shopping. All our warnings are in vain. It is completely understandable to go to grocery stores and a medical store but it is unfortunate when we see overcrowding inside the cloths stores for eid shopping," said an official of the local government while talking to The Express Tribune, adding that traders were previously reluctant even to close their shops and business six o'clock in the evening but with arrival of army the problem was no solved.
"The district administration is understaffed so we asked police to help us but even then we were not able to keep all the markets closed now with the help of army this problem is solved but still in the morning and afternoon we can't check the overcrowding and violation of SOPs in the markets," he said.
Assistant commissioner city Ihtishamul Haq said that 80 people were arrested on the violation of SOPs and not wearing masks and 34 shops were also sealed who violated the lockdown timings inside the city.
"Strict action will be taken against those violating the lockdown or SOPs," he said.
Published in The Express Tribune, May 2nd, 2021.