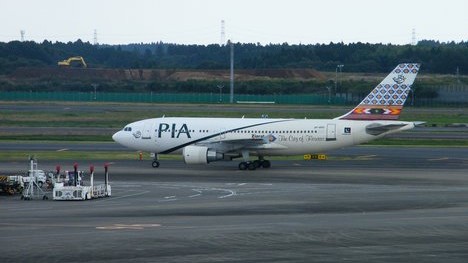 ---
KARACHI:
Pakistan International Airlines' (PIA) net loss shrank 55% to Rs7.51 billion in the first quarter ended March 31, 2021 apparently due to limited flight operations amid the Covid-19 pandemic, low jet fuel prices and a significant gain from rupee depreciation.
The national air carrier had booked a net loss of Rs16.90 billion in the same quarter (Jan-Mar) of previous year, according to the company's profit and loss statement dispatched to the Pakistan Stock Exchange (PSX) on Friday.
Read: PIA expects full recovery in 2nd half of 2021
Accordingly, its loss per share contracted to Rs1.44 in the Jan-Mar 2021 quarter compared to Rs3.23 in the corresponding quarter of last year.
Rupee depreciation against the US dollar benefited the airline as it booked a significant exchange gain of Rs4.14 billion in the quarter under review compared to a loss of Rs6.12 billion under the same account in Jan-Mar 2020.
PIA's share price improved Rs0.03, or 0.71%, to close at Rs4.27 with trading volume of 72,000 shares at the PSX on Friday.
The state-owned lossmaking airline reported net revenue of Rs15.50 billion for Jan-Mar 2021, which was 57% less than Rs36.44 billion in the same quarter of previous year.
However, the cost of aircraft fuel dropped 65% to Rs4.28 billion in the quarter under review compared toRs12.30 billion in the same quarter of last year.
The drop in fuel expenses came mainly due to low oil prices. Jet fuel prices had remained low due to partial suspension of international travel amid the Covid-19 pandemic.
Finance cost of the airline also shrank notably to Rs6.24 billion compared to Rs9.61 billion. The decrease was mainly due to low requirement of working capital in the wake of a slowdown in flight operations. The pandemic had badly impacted PIA flight operations.
However, the chartered flights (flights on demand), including those for bringing Pakistanis back home from across the world during 2020, largely benefitted the airline, according to PIA's Annual Report 2020.
Read more: Govt approves Rs457b PIA restructuring plan
PIA has expressed high expectations for a full-fledged flight operations in the second half (Jul-Dec) of the ongoing calendar year as a majority of its aircraft had remained grounded since the Covid-19 outbreak in the country in February 2020, according to the annual report.
On the assumption that there would be some opening of borders by mid-2021 (either through Covid-19 tests or growing availability of Covid vaccines), the overall revenues were expected to grow, but still less than what was achieved in 2019, it added.
COMMENTS
Comments are moderated and generally will be posted if they are on-topic and not abusive.
For more information, please see our Comments FAQ