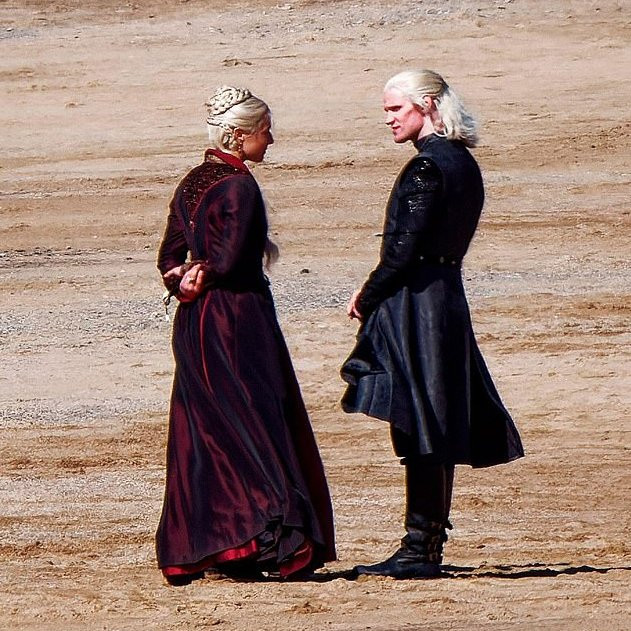 ---
Attention all Game of Thrones fans! The first photos from the new HBO series titled House of the Dragon are finally out. The spinoff is set before the events of Game of Thrones and is currently in the process of filming. While it is difficult to say for sure what storyline this series will follow, the images confirm that the show will largely be following the same aesthetic as its predecessor.
House of the Dragon, set 300 years before the events of the incredibly popular Game of Thrones, started filming this week with author George RR Martin serving as executive producer on the series. Based on Martin's book Fire and Blood, House of the Dragon has writer and producer Ryan Condal and director Miguel Sapochnik serving as the showrunners.
The pictures were taken during filming in Cornwall and feature Doctor Who's Matt Smith alongside Emma D'Arcy, both clad in true Targaryen attire, complete with blonde wigs and dark costumes. The two will play the roles of Prince Daemon and Princess Rhaenyra, respectively. The show will follow the story of House Targaryen, famously associated with Daenerys Targaryen, before the events of Game of Thrones.
According to the clan's backstory, the Targaryens fled from the Doom of Vayria to the Seven Kingdoms (also known as Westeros), where they built their ancestral castle just off the coast of Westeros at Dragonstone. They continued to live there until finally taking over the Seven Kingdoms under the rule of Aegon Targaryen and his sisters. The series is also set to star The Outsider's Paddy Considine, Elementary's Rhys Ifans, Ready Player One's Olivia Cooke, and It's a Sin's Steve Toussaint. In addition to House of the Dragon, several other Game of Thrones spinoffs are currently in the works. These include 9 Voyages (Sea Snake) from English screenwriter Bruno Heller, Flea Bottom and 10,000 Ships. House of the Dragon is set to release in 2022.