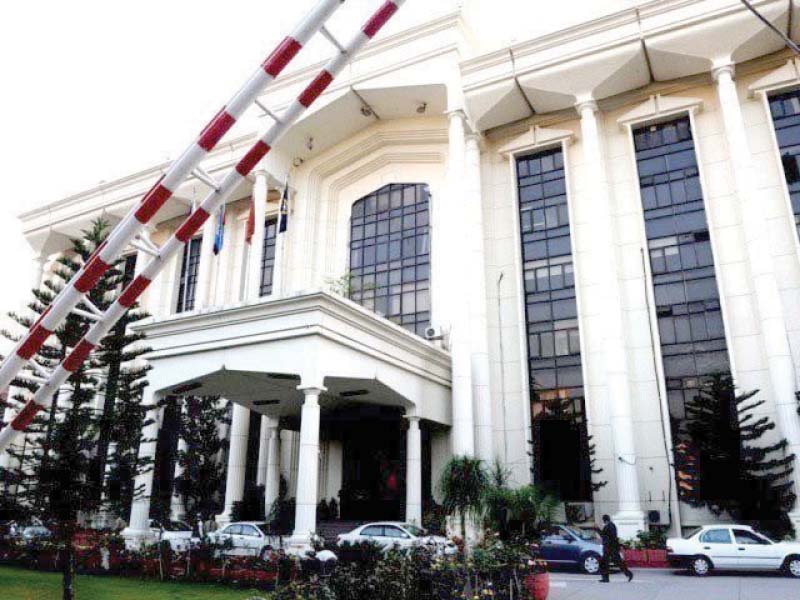 ---
ISLAMABAD:
In view of the Supreme Court's April 26 order, the Supreme Judicial Council (SJC) has decided not to act on the Federal Board of Revenue (FBR) report about undeclared properties of Sarina Isa, the wife of apex court judge Qazi Faez Isa.
On April 26, a 10-judge bench – with a majority of 6 to 4 – allowed the review petitions filed against its June 19, 2020 order that allowed the FBR to conduct an inquiry into the foreign assets of the Isa family.
The five-member SJC – led by Chief Justice of Pakistan Gulzar Ahmed – on Wednesday took up the FBR's inquiry report. Sources revealed to The Express Tribune that in view of the majority judgment, the council later decided not to act on the report.
The Supreme Court's two senior most judges – Justice Mushir Alam and Justice Umar Ata Bandial – as well as two senior most high court chief justices – SHC Chief Justice Ahmed Ali A Sheikh and Islamabad High Court Chief Justice Athar Minallah – are part of the SJC.
However, Justice Bandial – who also headed the 10-judge bench that heard Justice Isa's constitutional and review petitions – had recused himself from hearing the reference against Justice Isa at the SJC and on Wednesday Justice Mazahar Ali Akbar Naqvi acted as the fifth member of the council
"By majority of six to four [Justice Umar Ata Bandial, Justice Sajad Ali Shah, Justice Munib Akhtar and Justice Qazi Muhammad Amin Ahmed dissenting], these review petitions, except as mentioned below, are allowed," said the order, announced by head of the 10-judge bench Umar Ata Bandial on Monday.
In their short order, Justice Maqbool Baqar, Justice Manzoor Ahmad Malik, Justice Mazhar Alam Miankhel, Justice Syed Mansoor Ali Shah and Justice Aminuddin Khan allowed the petitions.
"For the reasons to be recorded later, captioned review petitions are allowed and the directions contained in paras 4 to 11 of the impugned short order dated 19.06.2020 passed in constitutional petition No.17/2019 and other connected matters, along with supporting detailed reasons given in the majority judgment of the same date, are recalled and set-aside.
"All the subsequent proceedings, actions, orders, information and reports in pursuance of the directions contained in the short order dated 19.6.2020 and the detailed reasons thereof, are declared to be illegal and without any legal effect.
"Resultantly, any such proceedings, actions, orders or reports cannot be considered or acted upon and pursued any further by any forum or authority including the Supreme Judicial Council (SJC)," they noted.
Justice Yahya Afridi had dismissed the review petition filed by Justice Isa but allowed the other review petitions filed by Justice Isa's wife Sarina Isa and superior bars against June 19 order.
Justice Afridi stated that "all review petitions except CRP No 296 of 2020, are allowed and the directions contained in paragraphs No 4 to 11 of the order dated 19.06.2020 and detail judgment dated 23.10.2020 passed in constitution petition No 17 of 2019 and other connected petitions are recalled."
The SC judge held that consequently, all the subsequent proceedings, actions, orders and reports made in pursuance to the said directions are declared to be of no legal effect and/or consequences.
However, the minority judges –Justice Bandial, Justice Shah, Justice Akhtar and Justice Ahmed – held that "for reasons to be recorded later, the review petitions are dismissed".
Senior lawyers have lauded the majority judgment, stating that it will secure independence of the judiciary. They, however, added that it will now be a challenge for the superior judiciary to set standards of accountability for judges.
The SJC also deliberated on the presidential reference against Sindh High Court judge KK Agha.
COMMENTS
Comments are moderated and generally will be posted if they are on-topic and not abusive.
For more information, please see our Comments FAQ