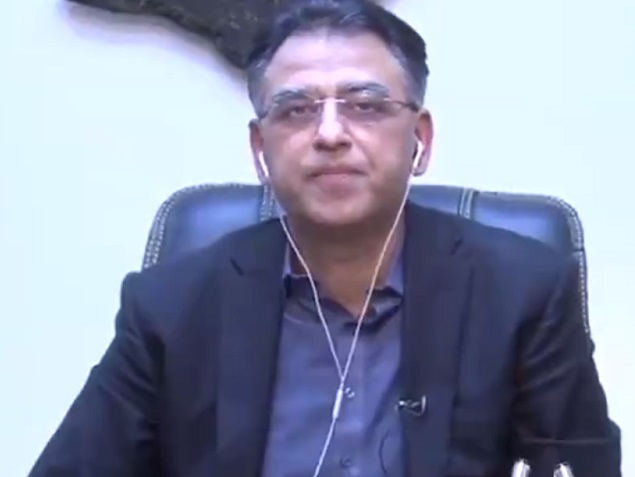 ---
ISLAMABAD:
National Command and Operations Centre (NCOC) chief Asad Umar said on Wednesday that Pakistan crossed the 100,000 Covid-19 vaccination mark in a single day, in a first since the inoculation drive began.
The single-day vaccination tally has now taken the total number of country's vaccinations to over 2.1 million.
In a tweet, Umar stated that a total of 117,852, people were vaccinated in Pakistan on Tuesday, crossing the 100,000 mark in a single day.
Read: One million more doses of Covid-19 vaccine flown in from China
"Good to see more people registering," the NCOC chairman said, further encouraging people aged 40 and above to register for Covid shots, if they haven't already done so far.
Daily vaccinations crossed 1 lakh in a day for the first time yesterday. Total vaccinations yesterday were 117,852. Total vaccinations so far now 2.1 million. Good to see more people registering. Please encourage all those 40 and above to register, if they have not done so far.

— Asad Umar (@Asad_Umar) April 28, 2021
Earlier, the minister elaborated that since the detection of the British variant of the virus in Pakistan, cases have increased significantly and brought about the pandemic's third wave.
Umar added that 0.9 million vaccines were available in the country as of now and that if the country received vaccine doses as per commitments, the vaccination will be opened for all Pakistanis after Eidul Fitr.
Stressing that the third wave could be controlled, he said cases will reduce if people started following Covid-19 SOPs and taking extra precautions during Ramazan.
Ban on imports with India
Federal Information Minister Fawad Chaudhry said the deteriorating Covid-19 situation in India has led the federal government to ban all imports from neighbouring India.
"This ban has been in force since the third week of April and is being fully implemented," Chaudhry wrote on his Twitter.
The information minister added that the government might have to enforce even stricter measures if the Covid situation continued on the same trend, and that the preparations were being done keeping that in mind.
بھارت میں کرونا کی بگڑتی صورتحال کے پیش نظر بھارت سے آمدو رفت پر مکمل پابندی عائد ہے یہ پابندی اپریل کے تیسے ہفتے سے لاگو ہے اور اس مکمل عمدرآمد ہو رہا ہے، اگر کرونا کی صورتحال میں بہتری نہ آئ تو پاکستان کے اندر مزید سخت اقدامات کرنے پڑیں گے اس کیلئے تیاری کی جا رہی ہے

— Ch Fawad Hussain (@fawadchaudhry) April 28, 2021
Pakistan recorded about 201 Covid-19 related deaths in the last 24 hours which is the highest since the pandemic reached the country last year.
According to the NCOC, the country's death toll climbed to 17,530 after the latest death count wherein most deaths occurred in Punjab followed by Khyber Pakhtunkhwa (K-P).
Read more Pakistan to make single-dose Covid vaccine
The NCOC further reported that at least 5,292 new coronavirus cases were reported in 24 hours, taking the country's Covid-19 tally to 810,231.
Meanwhile, about 4,678 patients recovered from the deadly disease in a day taking total recoveries to 704,494.
According to the NCOC, total active Covid-19 cases across the country now stand at 88,207.
COMMENTS
Comments are moderated and generally will be posted if they are on-topic and not abusive.
For more information, please see our Comments FAQ