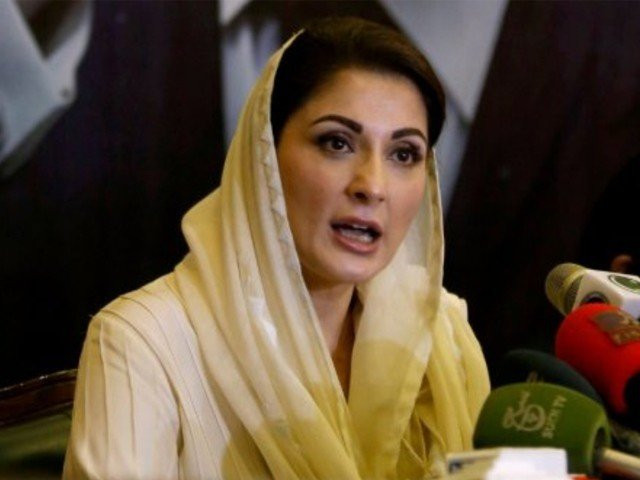 ---
ISLAMABAD:
Pakistan Muslim League-Nawaz Vice President Maryam Nawaz has stressed that no decision regarding Kashmir will be taken without the consent of its people, claiming that a conspiracy is being hatched against Kashmir as there is a smell of something cooking.
Talking to the media before the meeting of PML-N Azad Kashmir Parliamentary Board, Maryam said that the PML-N has served the people of Azad Kashmir the most.
"Kashmir election is our own election," she said, adding that they would tolerate the incumbent government for five years, "but the people will not".
Maryam said that the party was planning to run a full-fledged election campaign.
"The people of Daska bravely stopped the vote thieves," she said, referring to the by-election in the constituency which was bagged by PML-N candidate Nosheen Iftikhar. The ECP ordered repolling in the NA-75 constituency after incidents of violence.
Maryam vowed that the PML-N would not allow rigging in the Azad Kashmir elections. "PML-N's victory in Azad Kashmir election is certain."
Maryam said that (Prime Minister) Imran Khan is not giving an NRO to anyone except himself as the government has failed in every field.
"More evident of the government's failure is that the PTI MNAs cannot go to their constituencies due to inflation," she added.
She criticised the government for not being able to enforce the coronavirus SOPs. She also accused the ruling PTI of giving Kashmir to India.
He said that if the government wanted to give Kashmir to India like in the past, they would not allow it to happen. "[PML-N supremo] Mian Sahib is in contact from London regarding the Kashmir elections."
She appeared optimistic that the PML-N would win the Kashmir elections.
"There is a trend of polishing shoes in Pakistani politics," Maryam said, referring to politicians trying to woo the establishment. "We want this curse to end forever," she added.
Maryam condemned the arrest of Javed Latif, saying the state should protect the citizens and not punish the ones who point out the wrong.
"Imran Khan is consoling his crumbling party. All countries postponed the exams. This fake government endangered the lives of children as in the previous exams, everyone saw that no SOPs were implemented."
She said that she would ask the parents to register an FIR against Imran if their children get infected with Covid. "Can Imran Khan and Shafqat Mahmood make their children appear in such exams?"
Maryam said that those who overthrew Sharif were themselves falling. "Mian Sahab stands tall, full of splendor and full of strength."
COMMENTS
Comments are moderated and generally will be posted if they are on-topic and not abusive.
For more information, please see our Comments FAQ