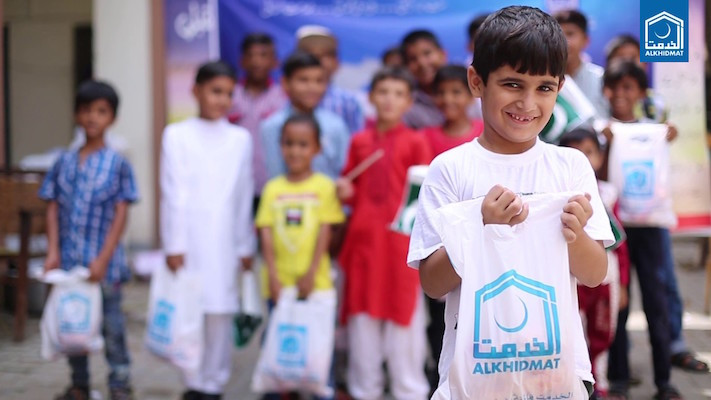 ---

According to a UNICEF report, there are currently around 150 million orphans worldwide, with more than 60 million orphans in Asia alone. Glancing at Pakistan, there are five million children who are currently deprived of parental care, adequate health and of food facilities which are not available for them.
Embellishing dreams in their eyes, holding a glimmer of hope in their hands and a sense of deprivation in their hearts, these innocent children are fighting the neglect of society. In this era of materialism and narcissism, taking a look at these little birds with love and lighting up the lamp of this love in their scared eyes, is surely one of the gifts of God Almighty that He offers to only a few chosen individuals.

Due to negligence that these orphans suffer throughout their lives, they can be exposed to significant threats that exist within our society. These innocent flowers are in danger of falling into the hands of beggar mafia, organ mafia and human smugglers, not just criminals. These mafias keep an eye on such children and can use them for their purposes at any given time.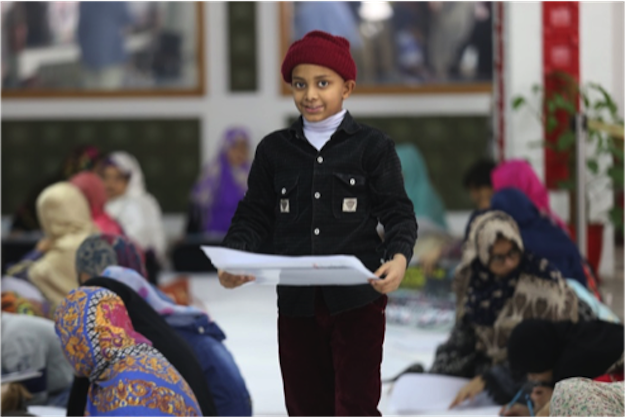 The situation in Pakistan is not as dire as in other countries because the relatives of these orphans raise them in the light of Islamic teachings. In fact, NGOs come to their aid and many philanthropic-minded individuals consider it their duty to support the orphans, but nonetheless the threat has not been prevented fully.
Millions of children are still looking at us to help them out. These smiling buds want to spread the smiles of their childhood, they want to blossom into flowers, they want to become fruits and share sweetness in society. Let's fill the colors of love and become a beacon of hope to such children. However, this is only possible when we take care of these children to the best of our capability. If one cannot afford it at an individual level, then team up with these altruistic organisations that are carrying out the duty of sheltering, educating and protecting these innocent children.
Alkhidmat Foundation is one of such blessed organisations comprising of those chosen individuals who with their full moral and financial support are contributing to Alkhidmat's Orphan Care Program. Alkhidmat Foundation is currently running two orphan welfare programs via its largest network of volunteers spreading across the country: Orphans Family Support Program and Aghosh Homes.

Orphan Family Support Program

Since the number of orphans in Pakistan is in millions and the care of such a large number of orphans cannot be met by building an orphanage alone, Alkhidmat Foundation has introduced a sponsorship scheme under which orphan boys and girls are being provided support at their homes. Alkhidmat Foundation under this program is currently sponsoring 13,694 orphans in the all provinces including Azad Jammu and Kashmir, Gilgit-Baltistan and the Tribal Areas.
For the orphans who are living in homes with their mothers or any close relatives who cannot afford their education, this program is a blessing in disguise for them. Costs of food, medical treatment and education is covered by the donors through Alkhidmat Foundation. The children are divided into 66 clusters across the country. A cluster usually consists of 100 to 250 children.

There is one in charge in each cluster who is named FSO (Family Support Organiser). These family support organisers are in constant touch with the children, their families and the head of the educational institution to ensure that the children go to school and do not encounter any difficulties in their homes or schools. Funding issued by the donors is carefully used by making sure that it directly benefits the development of the children.
In addition to educational and other basic needs, excursions, lectures, documentaries and sports competitions are also organised for the children on a monthly basis, which helps in reducing the feeling of deprivation in children, while boosting their morale and confidence. Children's health is also AlKhidmat's top priority, thus annual medical examinations of children are also conducted.
Child and Mother Character Development Program

This integrated system of children's character building has been developed with the help of four points, which include educational activities, physical activities, moral activities and social activities. Model Study Centres are set up that take care of their education. Ethical values and positive habits are being taught to children to inculcate honesty, integrity, discipline, observance of laws, rights of worship and fulfilment of their duties as responsible citizens. Given the interest of young children, picture books have been developed for them, whereas, a curriculum with practical activities has been developed for older children.

At present, 148 Model Study Centres have been set up across the country. The team operating the system consists of an RC, a male family support organiser, a female family support organiser, a mentor/educator and more volunteers. An annual plan of action and curriculum has been developed for the child trainer and mother.
In the first year of the three-year program, all children are taught six different values, in the second year six different habits, and in the third year, six important personality traits are made part of their monthly activities in order to embed each trait into their personalities. Speech, writing, questions, drawing competitions, entertainment and innumerable activities such as Islamic and national festivals are also organised.
Brave Mother initiative

An annual action plan and curriculum called 'Brave Mother' has been developed for the training of the child as well as for the mother in this program. Besides training workshops for mothers, an interest-free loan of up to Rs35,000 is also being provided under Alkhidmat Mawakhat Program to help such mothers stand up on their own feet. As per this scheme, mothers of orphan children are supported to start businesses like cooking, sewing, embroidery, grocery shop, beauty salon and stationary shop.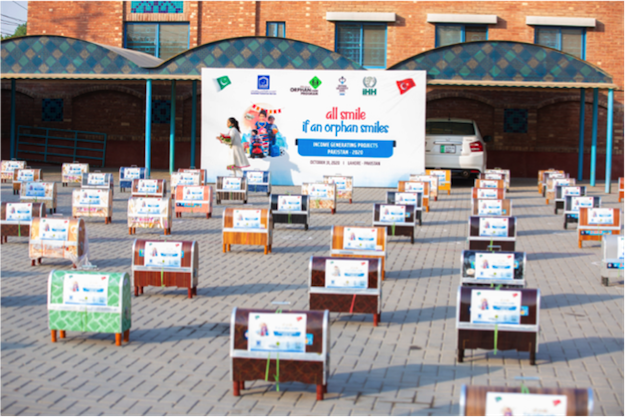 Aghosh Homes
For those orphan children who do not have access to a home environment and who cannot move forward in their lives by staying at home, Alkhidmat Foundation has established Aghosh Homes for them in different places across Pakistan. The purpose of establishing Aghosh Homes is to provide a homelike conducive environment for the upbringing and training of children deprived of parents, education, health, mental and physical development. Every facility of life, including boarding, schooling, playing and growing up has been ensured at these places. Myriad lectures and recreational educational tours are organised, followed by indoor games and activities for enhancing the intellectual development of children.
At present, Aghosh Homes are located in Attock, Rawalpindi, Islamabad (Girls), Murree, Rawalpindi, Bagh, Peshawar, Mansehra, Sheikhupura, Lower Dir, Dera Ismail Khan, Gujranwala and Turkey (for orphaned Syrian children in Ghazi Antab). Moreover, the work on Murree, Karachi, Kohat, Hala and Sheikhupura projects is in full swing. Very soon Alkhidmat is committed to establishing Aghosh Homes in Swat, Bajaur, Charsadda and Quetta.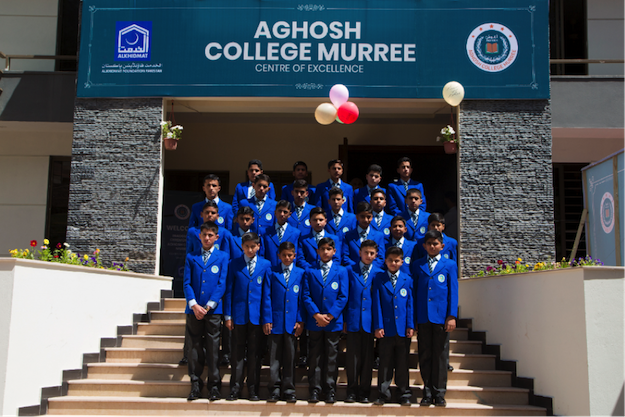 Alkhidmat Aghosh Home is not only a mother's hug for orphans, but it is also an Aghosh Sadaf, from where hundreds of gems are being carved for Pakistan. Alkhidmat Foundation is committed to making millions of brave children of our dear country gems, but we expect every responsible citizen of this country to play the role of oyster for these children.
Let's embrace these little angels in such a way that the eyes of a criminal group do not reach this precious capital of the beloved country. Let us pledge to these five million orphans by making sure they do not stand begging on the signal. Rather, they should raise slogans of Pakistan Zindabad in the school assembly.
To make a donation, click here
COMMENTS
Comments are moderated and generally will be posted if they are on-topic and not abusive.
For more information, please see our Comments FAQ