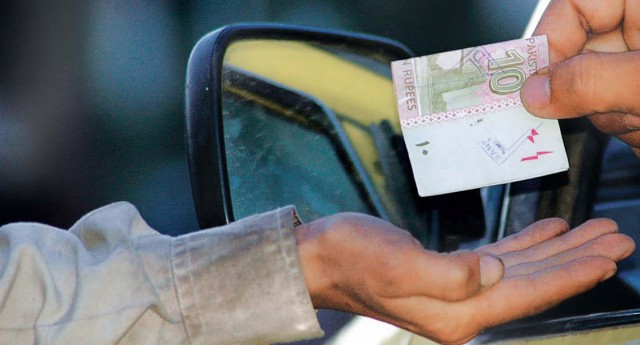 ---
ISLAMABAD/RAWALPINDI:
A total of 41 beggars found around commercial centres, traffic signals and other business areas were rounded up by the Islamabad Capital Territory (ICT) Police on Sunday.
In view of their growing presence in the city during Ramazan, a crackdown was launched against beggars and their handlers as they created a nuisance for the dwellers, said a police spokesperson.
He said that Senior Superintendent of Police (SSP)Operations Dr Syed Mustafa Tanvir had constituted anti-beggar squads to round up the alms-seekers across the city.
"The campaign against professional alms-seekers will be made more effective and strict action will be taken against those who force children and women to beg on the streets," the official added.
Read more: Islamabad police rounds up nearly 11,000 beggars
Meanwhile, the Rawalpindi City Traffic Police's (CTP) anti-beggar squad continued its operation against beggars and booked 1,473 professional alms-seekers during Ramazan. All beggars were handed over to different police stations.
According to CTP officials, some 1,473 professional beggars were arrested during the month, including 26 children who were handed over to the Child Protection Unit.
CTP also booked five beggars' contractors and registered cases against them. In this regard, Chief Traffic Officer (CTO) Rai Mazhar Iqbal said they were tightening their noose against professional beggars and people faking disability for money.
He mentioned that youngsters impersonating as beggars were also being apprehended during the crackdown. The purpose of the operation is to get rid of the menace of beggary, he added.
Published in The Express Tribune, April 26th, 2021.