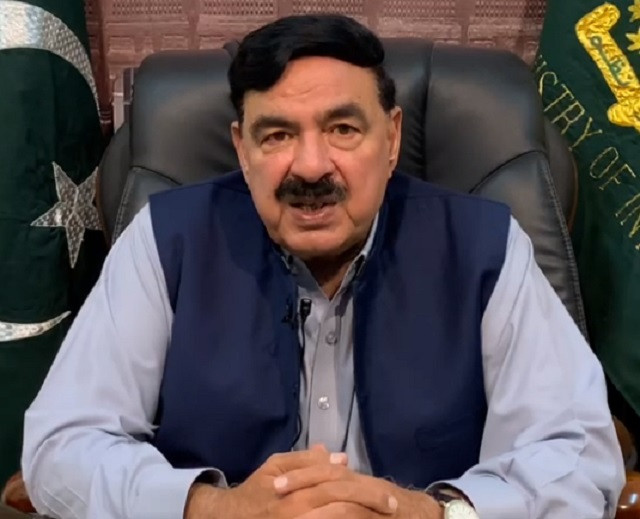 ---
Interior ministry notifies army deployment for Covid SOPs' implementation
Rashid says all provinces, regions except Sindh to avail services as per their need
---
ISLAMABAD:
Interior Minister Sheikh Rashid confirmed on Sunday the deployment of armed forces for all provinces and regions, except Sindh, to ensure adherence to Covid-19 SOPs.
"With reference to the April 23 meeting of the NCC [National Coordination Committee], led by Prime Minister Imran Khan, it was decided to avail the services of the army," Rashid said in a video statement today.
"The army that always stood with its people in calamities such as floods and earthquake has now been given this new responsibility," he added.
Today, the interior ministry has released the notification for the deployment of army personnel, Rashid said, adding that Gilgit-Baltistan, Kashmir, Khyber-Pakhtunkhwa, Punjab, and Islamabad will be able to avail the force's services as per their need.
"Sindh not yet a part of this [army deployment]," he said.
He said the decision was an important one considering the grave situation of neighbouring India due to Covid.
However, it emerged earlier today that the Sindh government has written to the federal government seeking the deployment of army personnel in the province to ensure adherence to Covid-19 precautionary SOPs.
Read Pakistan records 118 more Covid-19 fatalities in 24 hours
"The services of armed forces of Pakistan in aid of civil power are required under Article 245 of the Constitution of Pakistan," read a letter penned by the home department to the federal interior ministry.
"Exact nature of deployment of troops and equipment will be communicated in due course of time after carrying out requisite assessment in consultation with [the] quarters concerned," the communique added.
Army to aid civil administration
The Pakistan Army was called out on April 23 in aid of civil administration to ensure implementation of precautionary measures against the rampaging novel coronavirus as the prime minister warned the government might impose lockdown in major cities if the spread of the deadly contagion is not contained.
The ominous warning came as Covid-19 – the deadly respiratory disease caused by the novel coronavirus – appeared to have spiraled out of control in India where the healthcare system is staggering amid shortage of oxygen and medicines while crematoriums are being overwhelmed with deluges of bodies.
"If the situation worsens here like it has worsened in India, then we will have to impose lockdowns in cities – something we do not want and cannot afford because, in that case the poor – labourers and the daily-wagers – will suffer the most," the premier had said during the address to the nation. He added that he had been resisting calls from his aides who advised him to immediately impose lockdowns in the major cities.
The premier regretted growing disregard for the SOPs which, if followed in letter and spirit, would help the government contain the highly contagious virus. He called upon the nation to show the same resilience, commitment and sense of responsibility that it had shown during the first wave of the pandemic.