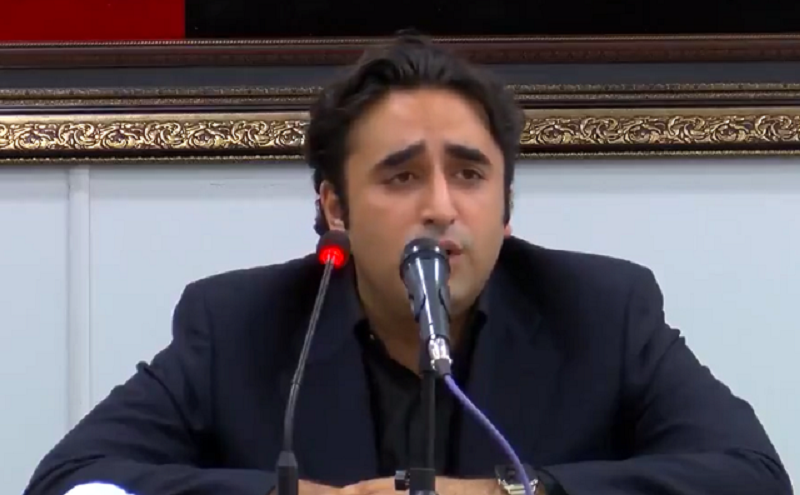 ---
KARACHI:
PPP Chairman Bilawal Bhutto Zardari on Saturday lamented the "shortage of coronavirus vaccine in the country", saying that Prime Minister Imran Khan would have to account for every rupee that went into the virus relief fund. "He [PM Imran] must understand that it is not possible to accelerate economic activities in the country without bringing the pandemic under control," the scion of the Bhutto dynasty added, expressing his concerns over the countrywide surge in Covid-19 cases.
"Where is the Tiger Force formed to implement the coronavirus SOPs [standard operating procedures]?" he asked, referring to the premier calling out the armed forces a day earlier to assist the law enforcement agencies in ensuring that the Covid-19 guidelines were followed. Bilawal said the "selected rulers" were helpless in containing the third wave of coronavirus because of their flawed strategy and incompetence. "The third wave has occurred because of the lethal UK variant of the virus," the PPP chief maintained. "It [UK variant] entered the country despite strict surveillance at airports," he added.
Raed Punjab tightens Covid restrictions as third wave spirals out of control
Bilawal pointed out that PM Imran had himself chaired five meetings even though he had contracted the virus. "How can a common man follow the SOPs in a country where the prime minister does not take precautionary measures against the virus?" The PPP chairman said the world was bringing the pandemic under control through vaccination. "Unfortunately, there aren't enough vaccine doses in Pakistan," he noted. "The government could have procured them in a large quantity but Imran Khan was eyeing free vaccine."
The PPP chief said if it were not for China donating the vaccine, Pakistan would still have been unable to provide doses to its frontline health workers. "The people of Pakistan are suffering as a result of the government's complete failure to procure the vaccine in time," Bilawal pointed out. "Even now if the vaccination continues at the current rate, only 20% of the country's population will receive the jabs in over three years."
The PPP chairman said a dose of vaccine that costs a few hundred rupees in the world was being sold for thousands in Pakistan. "The coronavirus vaccine is a basic human right," Bilawal added. "It should be free of charge or at least sold at the world market price, but the government has so far failed to take significant steps to improve the healthcare system." The PPP chairman said on the contrary, the Punjab health minister's statement that people should get vaccinated at their own risk had created fear and doubts.
COMMENTS
Comments are moderated and generally will be posted if they are on-topic and not abusive.
For more information, please see our Comments FAQ