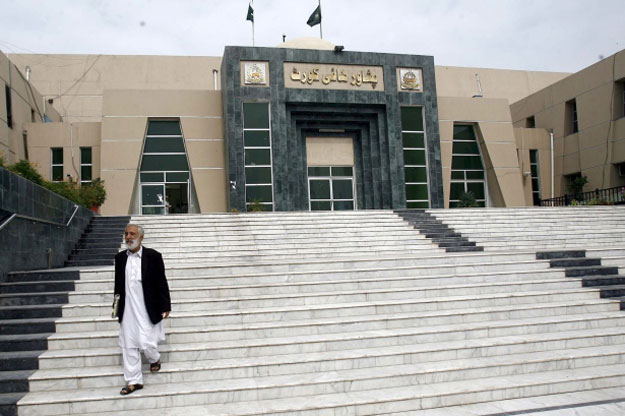 ---
ISLAMABAD:
Chief Justice of Pakistan Gulzar Ahmed has summoned a meeting of the Judicial Commission of Pakistan (JCP) on May 4 to consider five names proposed for the posts of additional judges of the Peshawar High Court (PHC). PHC Chief Justice Qaiser Rashid has proposed the names of District and Sessions Judge Azhar Khan, District and Sessions Judge Fazal Subhan, District and Sessions Judge Shahid Khan, Sikandar Rashid Advocate and Khalid Rehman Advocate.
However, lawyers from Khyber Pakhtunkhwa (K-P) have expressed serious reservations on these nominations and have decided to strongly resist the nominations at every forum. Pakistan Bar Council ex Vice Chairman Syed Amjad Shah said that the nominations smacked of nepotism. "Bar representatives were consulted by the PHC CJ but they did not agree on these nominees," Shah said, while talking to The Express Tribune. He added that bar representatives would present their point of view during JCP's subcommittee meeting. He contended that nominations were based on 'favouritism and nepotism', rather than merit and that they would prove it.
Also read JCP okays 5 names for appointment as additional PHC judges
"Interestingly, now woman has been nominated," he added. At present, the PHC has 15 judges against a total strength of 20. Currently, there is only one female judge in the PHC. Overall, there are five female judges working in superior courts of the country. A senior official told The Express Tribune that after the merger of former FederallyAdministered Tribal Areas (Fata) with K-P, there was need to increase the number of PHC judges. It is learnt that the backlog of cases has increasing after the Fata merger. After the merger of Fata, with a population of 5 million people, the official said, that population of K-P came close to the population of Sindh – the country's second-most populous province after Punjab.
He pointed out that the strength of Sindh High Court judges is 40, compared with 20 of PHC. It is also learnt that the chief justice of Pakistan has asked the Law and Justice Commission of Pakistan secretary to take up the matter with the executive, regarding increasing in number of judges in the PHC. As per law, the judge's posts could be enhanced through legislation or a presidential order. A senior lawyer lamented that despite making promises, the PTI-led government had failed to bring reforms to the justice system. It seems that senior civil servants did not take interest in enhancing the number of judges, the lawyer added.
COMMENTS
Comments are moderated and generally will be posted if they are on-topic and not abusive.
For more information, please see our Comments FAQ