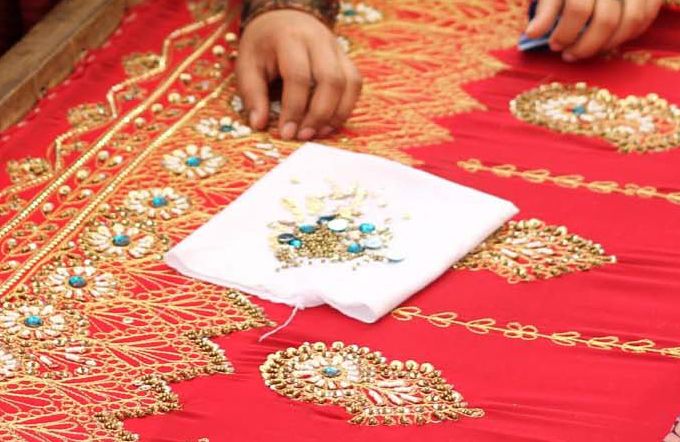 ---
RAWALPINDI:
The global coronavirus pandemic has been a hard row to hoe for the country's artisans, many of whom have had to look for alternate sources of employment amid the capsizing lockdowns.
One such segment includes the numerous creatives associated with Pakistan's zari work industry, which has been stuck in the doldrums for the past one year. Much of this stagnation has to do with the ban on public fairs and exhibitions. Owing to which, these skilled artisans have been unable to showcase their work or earn a decent living, in the most testing of times.
Zari work, which came to India from Central Asia around 12th century, is a style of intricate embroidery, popularised in the subcontinent under the patronage of Mughal Emperor Akbar. Since then, the art of zari, which traditionally made use of fine threads of gold and silver, has been associated with Indian royalty, and to-date remains one of the most famous techniques in metal embroidery. Nowadays, a more modernised versions of zari, called metallic zari, has replaced the traditional gold and silver wires, making the embroidery more accessible to a range of people.
However, where zari work was seeing a steady boon with the rise of handcrafted goods, the recent coronavirus-induced gap in production has left the industry on list limb. "We still stitch every piece by hand, so it takes a lot of time and hard work," said Hafeez Nisar, a zari calligraphy artist associated with the craft for the last 50 years. "Previously, we'd take the best of our works to Lok Virsa and other cultural fairs, where we'd make a majority of our business. But since Covid-19 has come as the death of such exhibitions, our work to has suffered in the aftermath," he added.
Until a year ago, Nasir would travel across the country and source business from the biggest cities including Karachi, Lahore, Islamabad and Multan. All of which would translate into a handsome income for the artisan and his family's comfortable living. "But now all of that seems like a distant past. The recent financial crunch has affected a lot of my clients, many of whom can no longer afford to invest in luxuries like zari work, which has in turn reflected in a drop in my business and all those associated with this art form," the embroider lamented.
Many of Nasir's clients came from the stage and television drama industry, which too has been facing the worst financial impact of Covid-19. The recent closing of cinemas and theatres, has accounted for a further drop in the artisan's business. "This is the only skill I have and have spent a lifetime perfecting, but the market is so bad now I struggle to even sell two articles a month," he told.
Nasir, whose work was recently displayed at the Rawalpindi Arts Council (RAC) after long gap in exhibitions, said that he is still hopeful about better times to come. "There were a lot of praises but still not enough buyers at the showcase. I pray there will be better times soon, but until then, the government should really consider offering some kind of financial aid to the many artisans of this struggling industry," he told The Express Tribune.
Published in The Express Tribune, April 25th, 2021.