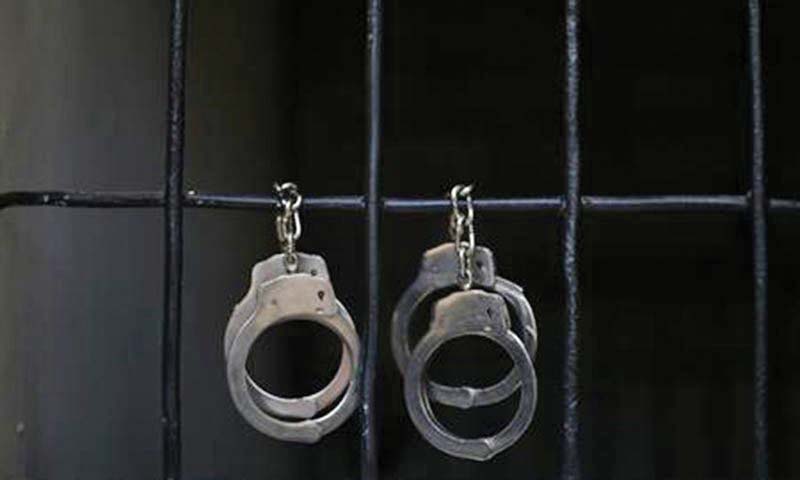 ---
HYDERABAD:
The Tando Allahyar Police registered on Saturday a case for the death of a young man, whose body was found hanging in a lockup, and arrested eight policemen booked in the FIR.
The Crime Investigation Agency's inspector Imtiaz Domki, ASI Sikandar Ali, SHO A-Section Police Station Imran Akhtar Chandio, duty officer Asfar Bhurgari and constables Irfan Dahiri, Amad Ahmed and Dil Sher are among those nominated. They have been charged under Sections 34 and 302 of the Pakistan Penal Code.
The case was registered at A-Section Police Station on the complaint of Yufra Khanzada, the sister of deceased 28-year-old Babar Khanzada.
The complainant claimed that a constable of Madadgar-15 Police, Irfan Dahiri, along with an unidentified person knocked at her door and told her that they had arrested Khanzada and demanded Rs10,000 for his release. "I pleaded before them that we are poor orphans and we don't have enough money to pay bribe but they didn't listen."
According to her, she was warned that if they did not pay the bribe, the police would nominate her brother in an FIR.
Hyderabad DIG Sharjeel Kharal told the media after condoling with Khanzada's family that the deceased was falsely implicated for selling mainpuri.
"First he was wrongly arrested and then his body was found in the lockup. According to the initial investigation, the police handled the matter with utter negligence."
He said the police were responsible for any death which occurred in a lockup.
"Now the inquiry will reveal if he committed suicide or was murdered."
Besides, Kharal assured Khanzada's family that they would get justice. The DIG said such incidents exposed black sheep in the police force.
Meanwhile, an inquiry committee formed by the Sindh IGP also visited Tando Allahyar and collected evidences and recorded statements.
Published in The Express Tribune, April 25th, 2021.
COMMENTS
Comments are moderated and generally will be posted if they are on-topic and not abusive.
For more information, please see our Comments FAQ