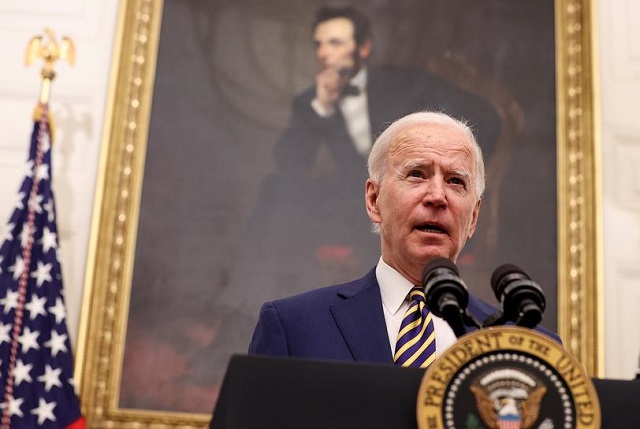 ---
US President Joe Biden on Saturday said the 1915 massacres of Armenians in the Ottoman Empire constituted genocide, a historic declaration that infuriated Turkey and is set to further strain frayed ties between the two NATO allies.
The largely symbolic move, breaking away from decades of carefully calibrated language from the White House, will likely to be celebrated by the Armenian diaspora in the United States, but comes at a time when Ankara and Washington have deep policy disagreements over a host of issues.
Turkish Foreign Minister Mevlut Cavusoglu said Turkey "entirely rejects" the US decision which he said was based "solely on populism".
Biden's message was met with "great enthusiasm" by the people of Armenia and Armenians worldwide, Armenian Prime Minister Nikol Pashinyan wrote in a letter to the US president.
In his statement, Biden said the American people honor "all those Armenians who perished in the genocide that began 106 years ago today."
"Over the decades Armenian immigrants have enriched the United States in countless ways, but they have never forgotten the tragic history ... We honor their story. We see that pain. We affirm the history. We do this not to cast blame but to ensure that what happened is never repeated," Biden said.
In comments that sought to soften the blow, a senior administration official told reporters that Washington encouraged Armenia and Turkey to pursue reconciliation and continues to view Ankara as a critical NATO ally. read more
For decades, measures recognizing the Armenian genocide stalled in the US Congress and US presidents have refrained from calling it that, stymied by concerns about relations with Turkey and intense lobbying by Ankara.
Turkey accepts that many Armenians living in the Ottoman Empire were killed in clashes with Ottoman forces during World War One, but contests the figures and denies the killings were systematically orchestrated and constitute a genocide.
'Relations already in shambles'
A year ago, while still a presidential candidate, Biden commemorated the 1.5 million Armenian men, women and children who lost their lives in the final years of the Ottoman Empire and said he would back efforts to recognize those killings as a genocide.
Ties between Ankara and Washington have been strained over issues ranging from Turkey's purchase of Russian S-400 air defense systems - over which it was the target of US sanctions - to policy differences in Syria, human rights and a court case targeting Turkey's majority state-owned Halkbank.
Biden's declaration follows a non-binding resolution by the US Senate adopted unanimously in 2019 recognizing the killings as genocide.
Previous US presidents have abandoned campaign promises to recognize the Armenian genocide for fear of damaging US-Turkish relations, said Nicholas Danforth, non-resident fellow for The Hellenic Foundation for European and Foreign Policy.
"With relations already in shambles, there was nothing to stop Biden from following through," said Danforth. "Ankara has no allies left in the US government to lobby against this and Washington isn't worried whether it angers Turkey anymore."
Erdogan had established a close bond with former US president Donald Trump, but since Biden took over, Washington has grown more vocal about Turkey's human rights track record. It has also stood firm on its demand that Ankara get rid of the Russian defense systems.
Biden had also delayed having a telephone conversation with Erdogan until Friday -- seen largely as a cold shoulder to the Turkish president -- when he informed him of his decision to recognize the massacres as genocide.
Saturday's announcement was slammed by the Turkish government and several opposition politicians. Turkey's presidential spokesman Ibrahim Kalin said Biden's remarks "only repeat the accusations of those whose sole agenda is enmity towards our country."
"We advise the US President to look at (his country's) own past and present," Kalin wrote on Twitter.
Reactions after Biden announcement on Armenian genocide
Following are reactions to the statement by US President Joe Biden on Saturday formally recognising the 1915 massacres of Armenians in the Ottoman Empire as genocide. The historic declaration could further damage frayed ties with NATO ally Turkey.
Turkish foreign ministry statement
"We reject and denounce in the strongest terms the statement of the President of the US regarding the events of 1915 made under the pressure of radical Armenian circles and anti-Turkey groups... It is clear that the said statement does not have a scholarly and legal basis, nor is it supported by any evidence.
"This statement ...will open a deep wound that undermines our mutual trust and friendship. We call on the US President to correct this grave mistake"
Mevlut Cavusoglu, Turkish Foreign minister
"Words cannot change or rewrite history. We have nothing to learn from anybody on our own past. Political opportunism is the greatest betrayal to peace and justice. We entirely reject this statement based solely on populism."
Turkish President Tayyip Erdogan, in a letter to the Armenian patriarch of Constantinople, Sahak II Mashalian, before the release of Biden's statement
"The politicization of the discussions that should be held by historians and used as a tool of intervention against our country by third parties has benefited no one. I believe that it is a great injustice against the new generations to build our identity on the pains marked on our souls by the past."
Armenian Prime Minister Nikol Pashinyan, in a letter to Biden
"The people of Armenia and Armenians all over the world perceived with great enthusiasm and welcomed your message ... The acknowledgement of the Armenian Genocide is important not only as a tribute paid to the 1.5 million innocent victims, but also in terms of preventing the recurrence of similar crimes against mankind."
Garo Paylan, Armenian MP in Turkish Parliament
"When Turkey confronts the Armenian genocide, it will no longer matter what other countries or parliaments have to say ... We need to bring the pain of the Armenian people, to the land where it belongs, to Turkey. We have to face the pain of the Armenian people and we must relieve this pain through justice. The Armenian people are waiting for justice."
COMMENTS
Comments are moderated and generally will be posted if they are on-topic and not abusive.
For more information, please see our Comments FAQ